Eddie Murphy and Antonio Banderas are back in their cartoon avatar, albeit voices in Shrek The Third, offering plenty of fun to both kids and adults. Anyone who has gone through the process of becoming a father will identify with the lovable ogre as fatherhood claims another victim in this third installment of the popular animated adventure.
Though the middle part of the 95-minute long film is a tad boring (the screenplay could have used more imaginative situations), the film has enough colour, humour, and drama to make it one of the biggest summer hits of the year.
This third installment in the Shrek saga, which has grossed nearly $1.3 billion worldwide and some $1 billion in ancillary sales including DVD, was directed by Chris Miller.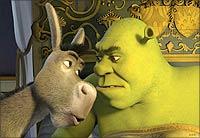 Andrew Adamson, who directed the first two Shrek films, chose not to direct the newest film and took up instead The Chronicles of Narnia series.

 

But back to the movie. As the Frog King (brilliantly voiced by John Cleese) dies, Shrek (Mike Meyers) is suddenly in an awkward position. He could become the ruler of the Far Far Away but given his discomfort with anything to do with royal functions, he declares that he is a mere ogre.

 

His situation becomes worse when he gets the news that his wife, princess Fiona  (Cameron Diaz) is expecting a baby. Shrek is now more than convinced that he can't rule the kingdom and raise the baby at the same time. So he sets out to find a replacement for himself.

 

He hopes to convince Artie (Justin Timberlake), who happens to be his wife's half brother, to join

the family in Far Far Away. But Artie lives in a very distant land, and Shrek takes up yet another journey, with faithful companions Donkey (Murphy) and Puss in Boots (Banderas).

 

Bringing Artie to the Far Far Away is no small joke. There are rivals who try to take the place of Frog King.

 

Meanwhile, Prince Charming (Rupert Everett) is again ready to conspire against Shrek and Fiona. He has failed, we learn, to make a career in theatre and he is not afraid of mounting another effort to capture Far Far Away.

 

In one of the film's more delightful passages, a band of young characters (playing such parts as Cinderella and Snow White) fight Prince Charming's efforts, seeking to save the kingdom for the good people.

 

Murphy and Banderas, who are fine throughout the film, offer some of their best work ever in the last quarter of the film. In fact, they offer more fun than the principal artists.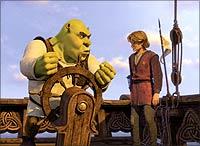 Meanwhile, Spider-Man 3, which took North America by storm during the opening weekend has grossed over $625 million worldwide in just 10 days. However, the second weekend saw it down by 60 per cent in America and by 50 per cent in the international market.
As for Shrek, it could open to smaller numbers compared to those achieved by Spider-Man 3. The ogre film too could make big waves across the globe. But the big question is whether it will overtake its predecessors, which grossed $920 million worldwide.
Rediff Rating: