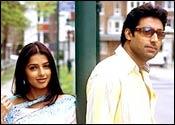 Halfway through Boney Kapoor's latest production, Run, I wondered what about the film would to appeal the audience.
A Boney Kapoor film may carry weight with the film industry but outside it means little. His last few films -- Khushi, Shakti and Koi…Mere Dil Se Pooche -- were box office disasters.
Besides, the Hindi audience has not heard of director Jeeva, even though his Tamil debut 12B was a superhit. Run is his first Hindi film.
Let me take you through the story and you can decide for yourself.
The story
It's the oldest one in the book. Boy meets girl, falls in love. Many obstacles later, their love triumphs.
Most Hindi films tend to take a share of this cake and decorate it with their own icing. Two of Bollywood's biggest stars were born this way: Aamir Khan (Qayamat Se Qayamat Tak) and Shah Rukh Khan (Dilwale Dulhania Le Jayenge).
Perhaps Boney wants the same for the industry's dark horse, Abhishek Bachchan.
So Run opts for the same clichéd story. Siddhu (Abhishek Bachchan) falls in love with Jhanvi (Bhoomika Chawla). But her brother Ganpat (Mahesh Manjrekar), the local goon, is ready to kill anyone who dares give his sister a love letter.
A similar plot was tried in Pyaar Kiya Toh Darna Hai. It worked.
But how many times will the audience agree to see the same story? In an age when viewers are exposed to new themes like Bhoot, Lagaan and Dil Chahta Hai, filmmakers may need to rethink their strategy.
The action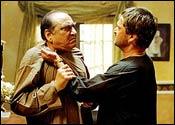 One of the big attractions in the film could be the action. To watch a collegian beat up a gang of mobsters may sound unrealistic. But Abhishek, with some help from action director Peter Hain, makes it very entertaining.
Like the time when Siddhu thrashes the gang in what appears to be a subway.
Even the pre-climax fight scene is well-shot.
Throughout the film, one gets the distinct feeling that, somewhere, Siddhu and Ganpat will clash. And the earlier sequences of Siddhu beating up Ganpat's goons keep your expectations high. Unfortunately, the climax fight is a dampner.
The cast
Bhoomika does well as Jhanvi. She manages to look timid and scared when required. Her character is similar to the one she played in her debut Hindi film, Tere Naam, where she was intimidated by Salman Khan's character for a while. Here, she is intimidated by Manjrekar's character.
Watch out the scene where she delivers a terrified yet subtle performance as Ganpat oils her hair. Most of all, check out her fabulous wardrobe.
Her relationship with her brother is a question mark. Why is Ganpat so over-protective about her? And why does he talk in a Bihari dialect when she speaks urban Hindi?
Mahesh Manjrekar is too loud in the film, especially since his actions are unexplained. He's supposed to be the local goon standing for elections, but that barely comes across. His only mission in life seems to be beating up boys who come close to his sister.
Later, his change of heart is so sudden that it seems to have happened only because the director wants to wrap up the film quickly.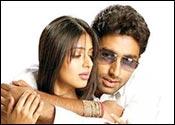 Vijay Raaz provides the film's lighter moments. As Siddhu's friend who spends much of his time trying to locate him in Delhi, Raaz cribs his way through the film. He cribs when the roadside tea stall waiter gives him watery tea. He cribs when a man steals his suitcase, wallet and clothes. He cribs when the doctor removes his kidney. He cribs the most when he's with his retired father.
There are moments when he's a laugh and moments when he jars. But, on the whole, this talented actor who put in a superlative performance in Monsoon Wedding is wasted in Run.
Abhishek Bachchan
The star of the film is, no doubt, Abhishek.
The actor slides into his rugged college boy routine easily. He falls in love with Jhanvi the moment he sees her. While side-stepping Jhanvi's 'bodyguards,' Siddhu manages to score with his lady love.
Sadly, director Jeeva does not depict their romance well. Due to her powerful brother, Jhanvi cannot spend much time with Siddhu. Instead of delving deeper into their romance in those few minutes, Jeeva shifts abruptly to a song and kills the moment.
But the couple's first date in a restaurant is interesting. Siddhu appears cool as a cucumber while Jhanvi seems flustered that Ganpat's men might see her. Yet, later, when Siddhu's brother-in-law (Mukesh Rishi) bumps into them, Siddhu's transition into Mr Butter Knees is amusing. The scenes between the two are quite comical.
Whether this film turns Abhishek into a star remains to be seen. But one does get a glimpse of the actor's sincere effort in every aspect -- dancing, fighting or acting.
At the end of the film, I discovered the answer to my initial question. Run hinges on Abhishek. Even the film's billboards promote only Abhishek. And rightly so.
No wonder the movie theatre was mainly filled with girls.