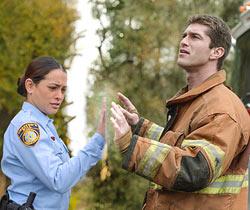 Paloma Sharma finds the first episode of Big CBS Love's Under The Dome quite gripping.

Under The Dome, as the name suggests, is the story of a small town in Maine, USA called Chester's Mill that gets trapped under a dome-like invisible force field.

The first time I heard of the concept, I had a mental flashback of The Simpsons Movie but once I started watching the first episode, I changed my mind.

Under the Dome is adapted from Stephen King's 2009 novel of the same name and the first episode of the series runs for some 42 odd minutes. With King and Steven Spielberg serving as two of the show's many executive producers, sci-fi fans are in for a treat.

Under The Dome's pilot sets off the burial of a dead body in a lonely forest area in the wee hours of the morning; as the town of Chester's Mill begins to awaken, more trouble ensues.
Investigative reporter Julia Shumway is alerted about large amount of fuel being stock piled in town by a local resident who claims that the police are turning a blind eye to it. Known only as Barbie, a man carrying a dark secret is trying to leave town when an invisible force field is dropped down on Chester's Mill.

The force field, later named The Dome, slices through houses, a woodchuck and a cow as it descends upon the quaint little town. Deputy Sheriff Linda Esquivel is trapped inside The Dome, along with the Sheriff, and separated from her fiancé, a fire-fighter named Rusty.
Angie, a young woman seeking to escape Chester's Mill, is caught inside The Dome with her jealous, obsessive stalker Junior, who is also the local politician, Big Jim's son.

Two adolescents, who come close to the force field, experience seizures and begin mumbling prophetically. With limited resources and no way to break in or out of The Dome, the peace and stability of Chester's Mill are becoming increasingly threatened with each passing moment.

Under The Dome does not feature any face that the Indian English language TV watching audience would be particularly familiar with, which works out well for the series since star-power does not overshadow the script.

Although there's never a boring moment, the episode becomes especially engaging when the Sheriff and Big Jim have a private conversation implying that (spoiler alert!) either or both of them might be in the know about what The Dome really is.

Since Brian K Vaughn, who worked as the writer and producer of the hit TV series Lost for two seasons, is the one who developed the show, I have high expectations from it. The story moves smoothly at a comfortable pace in the first episode. However, it leaves one itching to know more about The Dome and the fate of those trapped in it.

Under The Dome does pretty well for itself, considering this is only the show's pilot. There's much small town dirty laundry to be washed in public and an equal number of secrets to unearth as the days go by inside The Dome. Caught in an invisible cage like nothing more than a bunch of animals, it will be interesting to watch how (or if) the people of Chester's Mill break free from their unknown captors.

If you're watching the first episode of Under the Dome, expect the serpent of dread to creep into the pits of your stomach as the show progresses. Add that to a shot of adrenaline when The Dome drops on the town and you've got yourself a lethal mixture. In conclusion, all I have to say is: bring on the next episode!

Watch Under The Dome every Friday at 10 pm on Big CBS Love.

Rediff Rating: