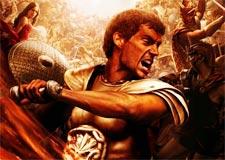 According to Shaikh Ayaz, director Tarsem Singh's imaginative artistry makes Immortals a visual treat.

The kind of subjects director Tarsem Singh picks allows him to imbue his canvas and characters with a sense of monumentality that is becoming rare in cinema.
Whether it is
The Cell
or
The Fall,
they are treated like epics. His latest,
Immortals
, is brutal, engaging and ironically savage given that it depicts a social order in which the gods of Greek mythology disembark for a feast of Mahabharata-style visual effects. What gives the film consistency is its explicit sense of disorder and mayhem and Tarsem seems to revel in that.
He reserves his best not for storytelling but in the care with which he treats his images, and mythology allows him leeway to recreate this world vis-à-vis his personal vision. His pictorial style may not be unique but it does have its appeal.
Tarsem's imaginative artistry is nowhere more apparent than in the ability to see the inner lives of the gods, such as Hyperion's (Mickey Rourke) evil gambit to control Greece or Zeus's (Luke Evans) concern for humanity.
Zeus chooses to pit Theseus (Henry Cavill)
against the ruthless Hyperion. Theseus is assisted by Stavros (Stephen Dorff) and the oracle Phaedra (Frieda Pinto).
Tarsem's actors do not let him down, whether it is Rourke, who is as tough as the headpiece he wears, or Cavill, who is set up against the mightiest and has the personality to make the action and ambition look believable.
Films like
Immortals
depend so much on visuals to tell the story that the other important aspects of cinema are often given scant attention. Unlike Tarsem's
The Fall
, there is little originality in
Immortals
but it is not without its moments.
It's a project designed for beefy heroes, wartime spectacles and digital wizardry. Of all people, a visually good-looking film like this would be a treat for Caravaggio, "the bad boy painter" as Tarsem described him in an interview with
rediff.com
.
For, Caravaggio, unrivalled Baroque master and an alleged murderer on the run had a soft spot for the homoerotic and watching those big boys in
Immortals
may well have inspired him to paint a muscular masterpiece or two.
Rediff Rating: