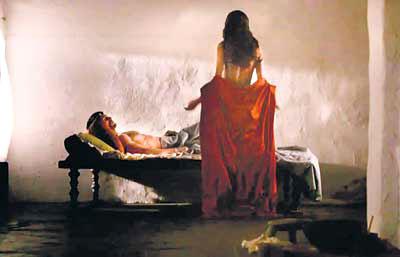 Freida Pinto has many sensual scenes in the tragedy film Trishna, but she is not yet ready for screen nudity.

The brief nude scene in her new film Immortals may raise some eyebrows but she says that isn't her.

Freida says her first day on set in Montreal was the sex scene and some skin exposure, but she was relieved to find out that she was not going to disrobe for the scene, however tastefully conceived it is.

She found out that the bare bottom onscreen wouldn't be hers.

'He (Tarsem, the director) said don't worry about the rest of it,' Freida told The Ellen DeGeneres Show. 'We are going to get you a butt double. It will be the best butt in Montreal. I was really happy because it was very flattering. It is a 3D butt.'

Immortals will be playing on some 3,000 theatres and nearly 4,000 screens across America and Canada. It will also be playing at some 4,000 theatres outside of North America. Add to this about 800 screens that are still showing Rise Of The Planet Of Apes.
The film was expected to earn about $250 million but now it is approaching the $500 million benchmark. And in late December, it will be out on DVD and Blu-ray.
By then Trishna, which was unveiled at the Toronto International Film Festival in September, should be out, enjoying an art-house release. It has found only a small and independent distributor in North America. The distinguished British director Michael Winterbottom, who has worked with a number of Indian artists such as Om Puri and Archie Punjabi in other films, says casting Freida made all the difference.

Winterbottom readily admits that he was wowed by his star. 'There was really no casting process; I knew as soon as I met her,' he was quoted as having said.

Some believe that Freida is at once sensuous and heart-wrenching in the film but at the London screening of the film, though not every reviewer was impressed.