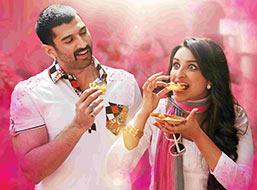 Daawat-e-Ishq is interesting till the time a Laxmikant-Pyaarelal inspiration comes into play, writes Joginder Tuteja.
One expects a delectable score for the film Daawat-e-Ishq, considering its theme.
The composers are Sajid-Wajid and the lyricist is Kausar Munir.
There is a 1970s feel to the qawwali music of the title song Daawat-e-Ishq, and reminds us of Laxmikant-Pyaarelal's music. The song has good lyrics and has been sung well by Javed Ali.
Sunidhi Chauhan is the female singer and does well as expected. The composition is catchy and plays on in your mind. Later in the album, the song's instrumental version arrives, but doesn't add much to the overall scheme of things.
In the next number, Mannat, Sajid-Wajid continue to pay homage to the composer duo of Laxmikant-Pyaarelal. With Sonu Nigam coming on the scene, there is an obvious Mohammad Rafi touch.
By the time the song reaches its hook line, followed by the antara portions, you know that this one is straight out of the LP stable.
The song -- which is also heard in a reprise version -- has the kind of 'Hindustani' beats and overall feel that makes it stand out from many another soundtrack.
Shreya Ghoshal sings this one too, with Keerthi Sagathia chipping in.
A Punjabi tune comes into play with Rangreli, sung by Wajid and Shreya Ghoshal. The sound of trumpets gives it away as yet another LP inspired number of the late 1970s and one almost expects Jeetendra, Dharmendra or Rishi Kapoor to pop out from somewhere.
The singers are clearly having fun in this well paced number that has the kind of lyrics that are not instantly catchy but sound fun when the song is being played.
We recently heard Aaj Dil Shayarana in the Akshay Kumar-Sonakshi Sinha combo Holiday. Well, for Aditya Roy Kapur and Parineeti Chopra, Sajid-Wajid spin a different tale in the form of Shayaran, that has a Western base.
Lazily put together, it doesn't fit into the mood of Daawat-e-Ishq. Though Shalmali Kholgade sings well, this one is not likely to be a chartbuster. The antara portions, especially, are just ordinary.
The situational mood continues with Jaadu Tone Waaliyan which has Shabab Sabri entering the scene. It reminds one of the Sufi compositions heard in Yash Raj films. It is also reminiscent of the soundtrack of Jhoom Barabar Jhoom.
Daawat-e-Ishq is interesting till the time a Laxmikant-Pyaarelal inspiration comes into play.
Rediff Rating: