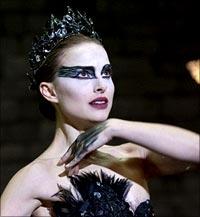 Elvis D'silva reviews The Black Swan. Post YOUR reviews here!

The proof of director Darren Aronofsky's skill and mastery of the moving picture format was visible right from his debut film Pi.

As far as global audiences were concerned though, the man has toiled in relative obscurity since his debut in 1999. Until now. Until Black Swan, and the news that Aronofsky will follow it up by directing the next Wolverine movie.

Black Swan is about how hard-working ballerina Nina Sayers (Natalie Portman) loses her grip on reality in the pursuit of an idea -- the abandon of the Black Swan character in the ballet Swan Lake.

Driven to distraction by Thomas (Vincent Cassel) the director of the ballet, the departing ballerina Beth (Winona Ryder), who used to be the star, a free-spirited rival Lily (Mila Kunis) and even her own mother Erica (Barbara Hershey), Nina's desperate search for approval and perfection metamorphoses into a descent into madness.

Even though Natalie Portman won a Best Actress Oscar for her performance in this movie, Black Swan is really a triumph for the director because he was able to convert a film about a ballerina's insecurities into something that mainstream audiences considered worthy of repeat viewing.
Black Swan is not a conventional horror movie. Sure there is blood and psychosis, things go bump in the dark and the leading lady suffers disturbing visions and unsettling experiences. But at its heart, this is a low budget art movie -- a drama even -- with its multiple rivalries (mother-daughter, ballerina-ballerina, Nina's internal turmoil) and unresolved issues.
But definitions don't matter -- or perhaps they are only really relevant when a product remains unsold. Black Swan and its leading lady have both been sold as successful cinema and as an Oscar-worthy leading lady respectivelly. All that remains is for more people to watch this movie and see for themselves what the big fuss was about.
That being said, this is not Aronofsky's finest work (that would be his second film Requiem for a Dream). Or even among his top three. But this is his most populist work. So I suppose there is a lesson in there somewhere for the filmmakers who want to be commercially successful 'artists'.
Watch Black Swan for its technical brilliance, for the manner in which the director has managed to parallel the happenings in the ballet being performed with the changes in the main character's life, and for the way it has been shot and art directed. Not because Natalie Portman won the most famous mainstream acting honour for wearing a pained expression for the bulk of this movie.
Rediff Rating: