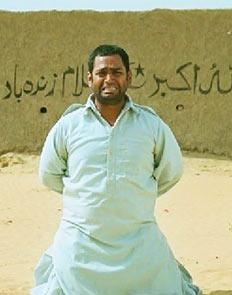 Filmistaan is a story about hope, writes Rediff reader Neha Sahi Saigal.

As the pre-film trailers rolled in the nearly empty cinema hall, I braced myself for the main feature film, Filmistaan.
I hadn't read the reviews.
I wasn't even familiar with the lead actors.
This date-night flick could turn out to be a slapstick abomination. I reminded the latent critic in me to be patient.
Then Filmistaan began to roll.
Believable characters, relatable story.
Sunny (played by Sharib Hashmi) is the happy hopeful loser. The one who believes his dreams will come true. Aftab (Inaamulhaq) is the enterprising villager with a heart of gold.

The rural setting they bond in lends itself to a believable friendship. There is something about the simplicity of village life that makes friendships truer, deeper.
In the absence of distractions, we are reminded that human connection is the only currency that matters.

Filmistaan captures this beautifully and makes you long for a simple life -- one where pleasures may be few but friendships are true.
And of course, the beauty of innocence shines brightest in contrast to a dark shadow. Mehmood, the grim extremist holding Sunny and Aftab's unlikely friendship to ransom is played by the intense Kumud Mishra (who has had my rapt attention since Shakkar Ke Paanch Daane).

Jawaad (Gopal Dutt), however, who wields his gun alongside Mehmood, makes the stereotypical extremist relatable by hinting at the desperation that drove him to extremism.
For a story about an unwitting hostage of cross-border tensions, Filmistaan is refreshingly light. Poignant moments in the film are sweet and evocative.
Dialogue flows easily and lightly and makes you laugh out loud many times. It is story about hope, a story that could restore your faith.
As the end credits rolled, my inner critic had been replaced by a romantic.
One who believes in friendships -- a power that can make you immune, even to the fear of death.
Reader Rating: