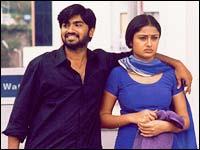 S
elvaraghavan has done it again!
Unlike some films you see and forget the moment you step out of the theatre, 7 G Rainbow Colony remains with you, disturbs you and lingers like the glowing embers of a fire long burnt.
Music, composed by Yuvan Shankar Raja, has already set the charts on fire. So it was a long wait for all those who had found Selvaraghavan's earlier creation, Kaadhal Kondein, a masterpiece.
It is, therefore, with great expectations that one walks into the theatre to watch 7 G Rainbow Colony.
The movie opens with a song, which, though catchy, is not entirely what one had come to expect of the film from the trailers.
But, almost immediately afterwards, one is jerked back into reality, as one stares at dark, soulful and real images.
Images of a quintessential lower-middle class home -- the doting mother, perpetually angry father, the brooding prodigal (Kathir, played by Ravi Krishna) who confesses fearfully of another poor show at the university examinations, the father reacting violently to his son's non-performance and both storming out of the house.
Unlike what we would expect in a movie (and what one wouldn't be surprised to see in real life), the son walks up all the way to the terrace, enraged more by his helplessness than anything else.
Anitha, (played to perfection by not-too-svelte yet gorgeous Sonia Agarwal) comes to live in Rainbow Colony, her family reeling under the blows of the failure of her father's once-prosperous business. She occupies Door No 7 G.
She doesn't change Kathir's life immediately. In fact, Kathir, such an average young man that girls would never give him a second glance, is rather indifferent to her. He watches with amusement as another man in the colony professes his 'sincere' love for her.
But when Anitha looks at him with sheer contempt, Kathir misinterprets as a sign of interest. He begins to relentlessly pursue Anitha, never opening his mouth but staring all the while, a never ending source of vexation for the girl. Gradually, Anitha's feelings for him changes from contempt and irritation to sympathy and finally, love. She helps him discover himself, and spur him -- a wastrel -- to achieve something in life.
The treatment of the story is unlike any other love story, from start to finish. The end of the movie, though it tends to drag, is the best and the most unpredictable part of the film.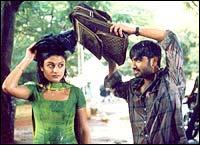 Ravi Krishna is brilliant. He speaks with élan in a lingo that the uncouth among Chennai's young men have made their own. He even looks the part -- from the way he is dressed to the way he eats. He is indeed the faceless average guy of the Indian lower middle class.
Sonia Agarwal, has also underplayed her part and has not descended to hysterical histrionics that Tamil heroines generally display on screen.
The camerawork is bold. When Sonia Agarwal is onscreen, the camera displays a great predilection towards close-ups, on several parts of her anatomy.
Selvaraghavan's direction and attention to details is what makes 7 G Rainbow Colony different. The father-son relationship is neither one dimensional nor overtly melodramatic. It is a portrayal that is not seen often in commercial Indian cinema.
The actress is reticent and sheds her inhibitions gradually. The relationship between Anitha and Kathir has been handled sensitively, though at certain points it does descend into excessive displays of sentimentality. He has also dealt with pre-marital sex with a candour that hardly any other filmmaker in India has dared to.
The sound, however, leaves much to be desired, what with every blow sounding like a thunderclap!
Selvaraghavan has once again displayed his skill making a movie that is touching without being mushy, and believable because of its realism.