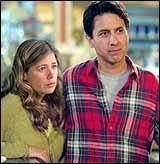 Like a political candidate whose performance before the win was far more interesting, Welcome To Mooseport must have looked very promising and colourful on paper. With a cast led by such interesting actors as Gene Hackman, Marcia Gay Harden and Rip Torn, we had expected a brisk, insightful and lively film.
Besides, director Daniel Petrie had shown good commercial sensibilities with such hits as Miss Congeniality and Mystic Pizza. What we have here is far removed from a landslide win.

The film has turned out to be one of the more disappointing comedies in recent months. Its toothless satire makes one hungry for rousing, delightful and thought-provoking films like Warren Beatty's Bulworth.

Hackman plays Monroe 'Eagle' Cole who has left the White House after two presidential terms and awesome approval
ratings. The seemingly self-effacing president who had been divorced while in office has a bitter alimony negotiations going on with his tough ex (Christine Baranski).


Cole arrives at his summer estate in Mooseport, Maine, hoping for some calm and serenity. He could be spending the
rest of his life there.
But his life gets unexpectedly complicated when the village mayor dies and the leaders there ask him to be their mayor. He wants to oblige them, but what seemed like an uncontested election turns into high politics as the local plumber (Ray Romano of television's
Everybody Loves Raymond
), is also contesting.
Meanwhile, Cole innocently asks a local veterinarian for a date. He has no idea that she has been asking the plumber to marry her for over six years. When she begins flirting with Cole, the political situation turns hotter, thanks to jealousy.

As the movie moves along with the energy of a so-so sitcom, Cole's former campaign manager (Rip Torn) arrives, and suddenly the village politics assumes a far bigger dimension than anyone can imagine. For a few minutes though, the movie becomes livelier but it offers no big surprises or clever twists after that. 

Gene Hackman, one of the most versatile actors in Hollywood, is fairly amusing, and so is Maura Tierney. Ray
Romano with his deadpan face does get attention. But he would have been far more effective had the role been
better defined.

Marcia Gay Harden, whose performance as a devastated wife who in a way betrayed her husband in Mystic River is much admired, plays Cole's secretary. There is not much she can do here, and what makes it all very awkward is that we sense she is trying very hard.
CREDITS
Cast: Gene Hackman, Ray Romano, Marcia Gay Harden, Maura Tierney, Christine Baranski, Rip Torn
Director: Donald Petrie
Writer: Tom Schulman
Running time: 1 hour 50 minutes
Rating: PG-13
Distributor: 20th Century Fox