Jaane Tu… Ya Jaane Na, written and directed by Abbas Tyrewala (who scripted the fun Munnabhai series, Main Hoon Na and Maqbool among others) is a fun-filled, engaging entertainment. Rarely do you feel bored as four friends narrate the love story of the protagonists -- Jai and Aditi -- to a bored newcomer, who joins the group by the time the film ends.
Jai Rathore (Imran Khan, making his debut) and Aditi Mahant (Genelia D'Souza), are best friends, who don't realise that they are in love with each other. Their parents, friends and even you would believe that they are made for each other. But they are so besotted with each other's friendship that they even venture out to find a perfect partner for the other one. When Meghna (Manjari Fadnis) enters Jai's life, Aditi begins to feel the pangs of love (or is it jealousy?).
So she goes and gets a man for herself, and gets engaged to Sushant Modi (Ayaz Khan). But this is one of those typical love stories that makes its climax at the airport.
Of the cast, Imran impresses tremendously with his acting skills. Watch him in the scene when he glares at inspector Waghmare (a brilliant Paresh Rawal). He reminds you a lot of his uncle Aamir Khan in the way he handles certain scenes.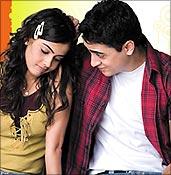 Genelia is spontaneous, like the other friends in the group. Jignes Patel (Nirav Mehta) shines with his typical Gujju accent.
Download Jaane Tu... Ya Jaane Na Wallpapers and Ringtones
But the best character that leaves his mark with his hatred and jealousy for Jai is Aditi's brother, Amit (Smita Patil and Raj Babbar's son making a brilliant cameo). The paintings -- when he takes Aditi for the first time into his room -- visually speaks for his loneliness and indifference shown by his sister after she meets Jai.
Paresh Rawal as inspector Waghmare, Arbaaz and Sohail Khan as Ballu and Bagheera bhaiyya respectively are eminently wasted. But they have their moments of glory with their one-liners.
Naseeruddin Shah, as Jai's father, who speaks with his elegant wife, Ratna Pathak Shah, from a painting in the wall, has played a perfect cameo.
Jaane Tu will definitely appeal to the young, its target audience.
Rediff Rating: