The World Cup fever is on the rise. Cricket is in season.
Statistics show that most filmmakers avoid releasing their films during this period, since it is believed to affect the business. Director Milan Luthria's Hattrick, however, not only revolves around the sport but also hits screens bang in the middle of the tournament.
Starring Nana Patekar, Kunal Kapoor, Rimi Sen and Paresh Rawal, Hattrick has Dhoom 2's Pritam doing the score.
For starters there is Ek pal mein, which is immensely peppy albeit romantic, reminiscent of the composers upbeat tones in Tu meri shab hai (Gangster) and Kya mujhe pyaar hai (Woh Lamhe). KK infuses characteristic spunk into this coming-of-age song.
Labh Janjua tic tac toes and balle balles to the Punjabi floor burner, Rabba khair kare. Cool, funny and rhythmic, Rabba is pretty much high on everything entertainment. No wonder its repeated twice in the album. Given the track's foot-tapping spirit, you are not likely to complain.
With the Caribbean Islands hosting the 2007 World Cup, calypso and reggae naturally find their place in Wicket bacha. Usha Uthup and Earl scoop every bit of enthusiasm to cheer team India to the path of victory. It's the kind of song that looks good on screen but copes with a ho-hum place on the soundtrack. The remix by Bunty Rajput and EMU work their technical wand considerably and meet with amusing results.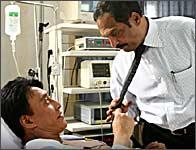 Sunny compositions are a Pritam specialty. Keeping the reputation alive, the man churns another in the shape of Kahan kho gaya, benefiting from Soham Chakrabarthy's vibrant rendition. The temperate pace and attractive melody ensures Kahan kho is easy on the listener.
Carolisa -- a watered-down version of Dolores O'Riordan, lead vocalist of The Cranberries -- teams up with Roop Kumar Rathod to daintily croon I am coming home. This Hindi-English combo track, despite its honeyed frame, is just too awkward for comfort. Interestingly the chalky baritone of Rana Mazumder is more suited for this mellow creation. His version of the same is infinitely better than his predecessors.  
After Sunidhi Chauhan's take on Yeh mera dil (Don), it is Mahalaxmi Iyer's turn to reproduce a snazzy edition of Jab chhaye mera jaadu. Originally composed by Rakesh Roshan for Dev Anand starrer Loot Maar, this disco ditty of the 80s is remixed efficiently by Zero DB. Even so, a remix is a remix is a remix.
Whether India wins the Cup or not, Hattrick scores with its lively and zingy numbers.
Rediff Rating: