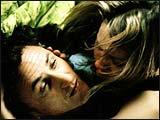 A compellingly demanding, relentlessly tough and often bleak but suspenseful film, 21 Grams is for viewers who like intense films like Mystic River.
It is the kind of film that will have a faithful and enthusiastic following leading it to be an arthouse hit.
The film startled many at the Toronto International Film Festival in September by its raw, unflinching look at life and death and staggering performances.
Now in limited release in New York and Los Angeles, 21 Grams will expand across America in the coming weeks.
For Sean Penn, an actor of remarkable reticence and ferocity who is yet to get the fullest recognition for his talents, 2003 is a milestone. He won high praise for his heart-piercing performance as an anguished father of a murdered girl whose own conscience cannot reject violence. He also helped make the Clint Eastwood-directed
Mystic River
, a solid arthouse hit.
Now, you see him in an even more complex role, demanding even greater attention to his protean talent.
Despite Penn's overpowering presence, the other artists in the film shine considerably. Watch out for Melissa Leo, who plays the wife of a born-again Christian. Benicio Del Toro, even more formidable than his Oscar-winning work in Traffic, offers a powerful portrait of a man for whom redemption is anything but easy.
More astonishing is Naomi Watts (who was so anaemic in the recent Le Divorce) carrying the burden of anger, guilt and sexual frustration, not to forget a terrible loss.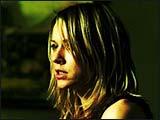 Admirers of Mexican director Alejandro Gonzales Inarritu, best known for his Oscar-nominated Amores Perros, are not at all surprised by the power and surprises he packs into his first English-language film. This is the second feature film from the 40-year-old director.
Many distinguished directors from Europe (Louis Malle, for instance) and South America have faltered miserably in Hollywood. But the Mexican master is one of the happy exceptions. 
Inarritu and his Amores Perros screenwriter Guillermo Arriaga are not just concerned with life and death issues in their new film but also with the relationship the living have with the dead.
The complex narration that moves back and forth in time, is focused on the tenuous happiness of three families whose paths cross following a horrific car accident.
A math professor Paul Rivers (Penn) is dying of a heart disease. His wife Mary (Charlotte Gainsbourg) is determined to get pregnant with his child through artificial insemination. A heart transplant revives the professor but not his fractured family life.
Cristina Peck (Watts) has put drugs behind her and is in a stable marriage to an architect (Danny Huston). They have two little girls. Her life echoes that of the alcoholic Jack Jordan (Del Toro) who has embraced Christianity since his last prison term. But his wife Marianne (Melissa Leo), strangely it may seem at the start, is missing the old Jack.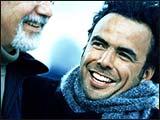 Paul, we get to know slowly, has a new lease on life, thanks to a heart transplant from the architect who was cut down with his two young daughters in a car accident. Paul tracks down -- without revealing the heart transplant -- and tries to help the widow Cristina.
Following the accident she has resumed her cocaine habit.
Paul and Cristina become lovers and decide to punish Jack Jordan. Don't expect a thriller type ending to the story. For this is indeed a mystery about guilt, ethics and redemption.
Inarritu, helped immensely by cinematographer Rodrigo Prieto, who gives the film a gritty look and an almost black and white gloss, has created one of the most intriguing films in recent years.
Inarritu does not offer any easy answers. That makes it difficult (and yet exhilarating) to understand the complex characters in the film who are filled with contradictions and confused impulses.
Even the title of the film is baffling: 21 grams is the weight one supposedly loses when one dies.
It is one of the many teasing elements in a film directed with a sure-handed determination.

CREDITS
Cast: Sean Penn, Naomi Watts, Benicio Del Toro, Charlotte Gainsbourg, Danny Huston and Melissa Leo
Director: Gonzalez Inarritu
Writer: Guillermo Arriaga
Rating: R for violence, gore, profanity and sex
Running time: 2 hour 5 minutes
Distributor: Focus Features