If you have been a fan of D J Caruso's earlier gems [Disturbia, Taking Lives), then you should definitely check out his latest crystal offering that comes with lots of eye-catching CGI and some fine performances. Seemingly, this Enemy of the State inspired saga has just the right amount of thrills, action, mystery, drama and all the makings of a summer blockbuster.
Jerry Shaw [Shia LaBeouf] a copy-shop employee is badly shaken when his high-achieving twin dies in an accident. But before he can take a breather, he and Rachel [Michelle Monaghan] are wedged into an increasingly dangerous series of escapades guided by the voice of a mysterious woman who seems to control every computer network in America. If that's not enough adventure then we have FBI to add woes to their already runny troubles taking Jerry for a terrorist.
LaBeouf as a slacker [the stubble look helped] shows depth and promise of a groovy actor in the making while on the other hand it is painful to see the talented Monaghan as an indulgent mother faring mediocre. Yes, the quite-obvious age difference would probably be to nullify any chance of romance between them and making a complete mess of the already chaotic plot.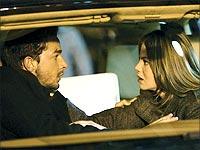 Where Eagle Eye succeeds as a full-on, edge of the seat thriller it also leaves a bunch of loopholes in the story which are best left for the audience to unravel.
One cannot stop thinking as to why a government super-computer which can control traffic lights to LED readouts and the entire nation's grid of cell phones and computers, blackmail two sorry human beings to achieve its bare motif. Not to forget, laying FBI on their tails and making the chore all the more difficult.
The zeitgeist setting and locales of this motion-picture are befittingly coiffed and seems effective but not without raising some logical arguments. The on-foot action episodes are gripping while the car chase sequences are incompetent and amateurishly shot.[PS: Choppy editing and jerky camera angles does not mean fast-paced]
'Eagle-eyed' in its effect but myopic at the execution, watch this movie for LaBeouf, Thornton, screeching tires and hidden crystals. But if your school of thought stems particularly from logic alone then you have '30 seconds' to get out of the theatre and rather just wait for the DVD release.
Rediff Rating: