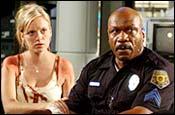 Watch out, Mel Gibson. Dawn Of The Dead could overthrow The Passion Of The Christ over the weekend. The glittering, ultra violent and slick horrorfest has been flying high on box-office trackers' radars for quite some time.

Yet, some viewers may wonder if there was any need to remake the 1978 cult classic of the same name by George A Romero about a group of survivors in a suburban mall who battle flesh-eating zombies.

Romero's film went beyond the confines of the usual horror films. It also sought to examine the suburban culture and class attitudes. It carried a bit of satire on racism, observations on class conflict and sexual power play, not to forget consumerism.

Director Zack Snyder, who makes his feature film debut in
Dawn
with
a bigger budget than Romero had in his time, has no patience for such things as satire and social commentary. He wants to pump out thrills and shock. And splatter the screen with one bloody sequence after another.
One should not be surprised if
Dawn
turns out to be a substantial hit. A number of weaker horror films have done just that in recent months. But one also feels that it deserves its success to some extent. Though it becomes predictable, numb and soulless, it also offers several scary and well-shot sequences. And there is certain amount of welcome humour too.
Watch out for the scene in some of the film's characters shoot fist-size holes through zombie brains. Or the wonderfully funny sequences in which the survivors play a game and go after zombies who resemble celebrities and blow off their heads, with such hits as
Don't worry, be happy
being aired.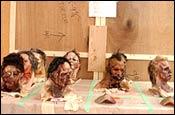 The opening scenes, in which a Milwaukee nurse Ana realises her neighbourhood has turned zombie zone is grippingly narrated with Sarah Polley (as Ana) bringing out the cold terror. Though the ten-minute opening sequence has been telecast on cable television in the US, its surprise and shock value should not be diffused by giving out too many clues. It suffices to note that Ana discovers a terrible secret in her own home before fleeing to the mall.
Soon Ana joins a group that includes a police officer (a predictable Ving Rhames), who looks too stoic in the beginning; a seemingly gentlemanly electronics salesman (Jake Weber); and the streetwise husband (Mekhi Phifer), with a wife (Inna Korobkina) in an advanced stage of pregnancy.
They take refuge in an abandoned upscale mall amidst more tension created by security guards who want to make sure they run the show.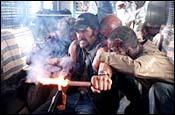 Soon, more people running away from the zombies gather in the mall. In no time, the film begins to lose its focus. Romero seems more interested in highlighting the fear and survival instincts of a handful of people. And he succeeds to a certain extent. Last year,
28 Days Later
 did an even better job concentrating on a small group of would-be survivors.
But scriptwriter James Gunn and director Synder seem to believe in the theory that more people fighting for survival create more tension and excitement. It does not.
Romero's films, including
Dawn Of The Dead,
and his even better
Night Of The Living Dead
(1968), were tightly scripted and made us feel that the zombie invasion could happen. His characters behaved more logically and smartly than the ones in the new film.
CREDITS:

Cast:
Sarah Polley, Ving Rhames, Mekhi Phifer, Michael Kelly, Jake Weber
Director
: Zack Snyder
Screenwriter
: James Gunn; based on screenplay by George Romero
Running time
: 100 minutes
Rating
: R for strong and pervasive horror violence and gore, language and sexuality.
Distributor
: Universal