The chipmunks are back!
But actually, the chipmunks never really went away. They've been around since 1958. That's when a music producer named Ross Bagdasarian gave birth to novelty musical recordings featuring the three chipmunks. Bagdasarian was the voice of all the characters in the early productions of Chipmunks-related recordings (including their human 'father' Dave Seville). The high-pitched vocal stylings of Alvin, Simon and Theodore sold millions of records, earned them Grammy nominations and fuelled cartoon series and 'live' television performances. But all that was a long time ago.
Evolving audience tastes demanded an upgrade to the Chipmunks' story. Alvin and his mates needed to be reintroduced afresh to modern audiences, the so-called YouTube generation, with a fresh origin story. And that's exactly what Alvin And The Chipmunks is about.
Television and big screen funny man Jason Lee plays Dave Seville, a down on his luck songwriter who cannot sell a song to save his life. His music just doesn't appeal to the demographically-focused Ian Hawke (David Cross) at Jett Records and one morning, when he tries to decamp with a basket of muffins after another rejection, he earns three new house guests.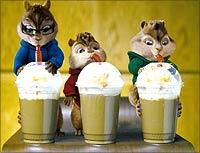 Before long Alvin, Simon and Theodore have wreaked havoc in Dave's home and contributed to his losing his day job at an ad agency. Everything changes for Dave and the 'boys' though when he discovers that they can sing. Well enough to score a hit single, a world tour, fans and merchandise deals.
Alvin And The Chipmunks, however, is not a nuts-to-riches story. At its core, it is a feel-good tale about family and how the word can mean different things in different contexts while always signifying a group of people (or chipmunks) who band together against all odds to help each other grow and flourish.
Jason Lee plays the battered Dave with the same weary charm that he brings to his television character in the series My Name Is Earl. David Cross also seems to be playing another version of his character from the cancelled TV classic Arrested Development so he comes off as more goofy than greedy as the film's villain.
The real triumph of this film however is the animation of the three chipmunks and their integration into the live action portions of the film. Though we know that they are animated, it becomes difficult to remember that these talking, singing, dancing critters were added later to scenes with their human co-stars.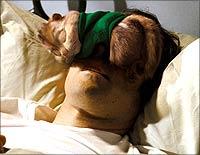 Featuring the voices of Justin Long (Live Free Or Die Hard) as Alvin, Matthew Gray Gubler as Simon and Jesse McCartney as Theodore, their characters are nicely developed and one gets a strong sense of each chipmunk's personality. And that makes Theodore the cutest of the three. All the pop culture references help place these 1950s era characters squarely in the twenty-first century while the honourably-intentioned storyline imbues the whole film with an old world Disney charm.
All in all, this is a fun addition to the canon of festive season movies Hollywood does so well. This isn't a movie one seeks for a great storyline or dramatic cinema. This is something one should watch when one feels the need for a dose of cute swaddled in a few easy laughs. Everything else is gravy.
Rediff Rating: