It isn't often that an English movie -- releasing in Indian theatres -- forces the viewer to think, feel afraid of the dark and cringe with a fear that is not related to things that go bump at night. Blindness, starring Julianne Moore and Mark Ruffalo, is one such film.
From the trailer as well as its synopsis, this film did not hint at the terrifying fruit it would bear for those that paid to see it.
On the surface, it sounds like a weak morality tale that Hollywood funds periodically and then pays for in full when no one goes to watch it. Not so this time. Granted the movie hasn't made a lot of money at the international box office but that doesn't take away from the fact that it is a harrowing portrayal of a post-apocalyptic scenario that far outstrips movies like I Am Legend in conveying the horror of a world gone mad.
In this case, the madness begins with a sudden affliction called 'white blindness'. Any person who contracts the condition finds his vision going completely white, as if somebody turned on every single light in the world.
The afflicted are unable to distinguish colours or shapes and though there is nothing wrong with their eyes, they are unable to see a thing. When a solitary case turns into dozens, the government reacts to the situation by herding away all those suffering white blindness into an abandoned mental hospital where they are forced to fend for themselves.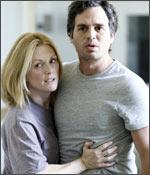 Mark Ruffalo plays the eye doctor, who examined the first person to experience the condition. Not too long after his encounter with the disease, he is blinded as well. Moore plays his wife, the only person seemingly unaffected by the disease even after she comes in direct contact with others who suffer from it. When her husband is taken away, she goes with him and thus becomes the only person with sight among a large group of blind people.
Every day more people turn up. Soon the beds in the wards are not sufficient and then the food begins to run out. Into this chaos, one of the inmates brings a gun. Played with chilling glee by the gifted Mexican actor Gael García Bernal, this inmate completely modifies the thus far largely co-operative dynamic of the facility. Once his cohort takes control of all the food and begins making increasingly irrational demands of the other inmates in exchange for minimal nourishment, it is left to Moore's character to lead the fight back.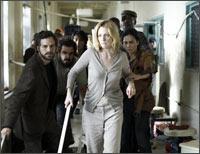 Shot as a disconcerting amalgam of blurs, shadows, milky white light and suddenly searing moments of sharp focus, the movie does a great job of conveying the discomfort of the people who find themselves in a unique situation through no discernible fault of their own. The way in which the tale explores the growing gulf between the blinded husband and his sighted wife, set against a larger chaos, is simultaneously difficult to watch and unquestionably riveting.
Based on a novel by Nobel Prize winner José Saramago, the movie is very effectively realised by visionary Brazilian director Fernando Meirelles (City of God) and is a tremendous return to form after the disappointment of his last film (The Constant Gardener). There are several sequences in this movie that will threaten to simply rip your heart out with their intensity.
Julianne Moore does a very good job of playing a character at once weighed down by her own responsibilities and also incapable of looking away as everyone around her slides down the slippery slope into anarchy and madness. As the good-hearted but flawed husband Ruffalo puts in another strong performance.
This is by no means an easy or entertaining movie to watch but for anyone brave enough to watch this film the filmmakers manage to show us what humanity is capable of. On the surface, this is a movie about what social rules would come into play if the world was rendered blind. What it manages to do is get us to open our own eyes to what we refuse to see each and every day.
What other movie in recent times have you been able to say that about?
Rediff Rating: