There are two kinds of people in this world,' Mia Wallace told Vincent Vega in an unshot scene from Quentin Tarantino's Pulp Fiction. 'Elvis people and Beatles people.'
Across The Universe is a celebration of the latter. And it's super.
As glorious, flippant and frivolous as it is nostalgic, Julie Taymor's musical is a work of staggering affection and ingenuity. For those just tuning in, the film is a simple 1960s romance, just told using the Beatles songbook. Yup, you read that straight.
Also Read: Telling a tale, The Beatles way
The plot itself is of chick-flick quality, a teen romance that begins conveniently and is jarred by the simplest of misunderstandings. But then this isn't a movie about the story, it's one rejoicing about the frills. The characters are nice, the visuals are often perfect and there is much counterculture in the backdrop -- despite war and revolution handled with significant naivete.
Hang all that, however. This is a movie about the music, and everything in it is out of a Beatles song. True, the greatest band in history did write enough songs to, with some thinking, be matched to every possible situation. Yet Universe is a grandiose attempt, trying to craft an audacious wonderworld of lyric and visual -- a rabbithole where young characters plunge into John, Paul, George and Ringo's words and emerge doused in the Beatles spirit, dripping with irony and intelligence and irresistible wit and charm and innocence. Abracadab-haha!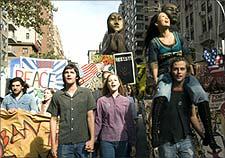 Does it succeed? In its own right, yes, it's a triumph. Agreed, this is -- more than anything else -- a sweet film, when it could potentially have been deviously, mindblowingly clever. It could have been a lot more subversive, a lot cheekier, and you could edit it very differently indeed. Blah, blah, blah. There are times in life when All You Need Is a Lollipop.

 

And yes, everything is a reference. If they aren't singing it -- and the cast is laudably prolific, taking on 33 songs from the catalogue, dished out in full or fly-by snippets -- then they are it, from Liverpudlian leading man Jude (Jim Sturgess) and his immaculately toothed ladylove Lucy (Evan Rachel Wood) to the rest of the madcap folk that flit in and out or stay in the film. Allusions are made to everything from song-names to record labels to relationships to famous undersea covers of Rolling Stone.

 

It takes a while to get a hang of things, the music overwhelming the characters as Jude croons the haunting opening lines of Girl and takes us into a montagey flashback that is, we realise, the film. High-school schlock flies thick and fast and while the singing is decidedly above-par, we aren't quite relating to this young limey heading into America, or this girl sobbing goodbyes to her uniformed, war-bound lover. The music is startling and great, but there's a

clear disconnect.

 

Things fall into place a few scenes later, at Princeton, where Jude meets Max (yes, Maxwell of the famed Silver Hammer), played by Joe Anderson, who instantly swings the film to life. Max is the John Lennon (complete with Bridget Bardot fixation -- plus the identical poster Lennon had) to Jude's Paul McCartney, and as he strums on the instrument he plays best -- the fool -- all over the place, the rest of the characters come into their own and the film is suddenly infectious with charm. Before you know it, you're grinning.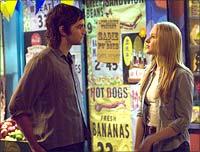 The music is used smartly, unsparingly. Some songs are turned on their head, contexts and genders changed, while others continue to underscore moments of poignancy and loss, strength and ecstasy. It's a wonder how versatile the words are, used unchanged, to fit into these young lives, even as war explodes around them. Strawberry Fields Forever -- used when Jude the (obscure?) artist is impaling said berries to name a record label after the fruit -- ranks among the strongest interpretations, as do Happiness Is A Warm Gun, Let It Be and All You Need Is Love, complete with that blessed Lennon adlib that takes on new character here.
I still think If I Fell should only ever be sung by a man, but that's just one bad shot. With merciful restraint, nobody sings the words to A Day In The Life; they just read the newspaper, oh boy.
The characters are interesting, the support-acts often more fun than the near-perfect leads. The acting is pretty consistently spot-on, and the cameos work -- Bono, Joe Cocker, Eddie Izzard and Salma Hayek are all superbly cast and clearly thrilled to be a part of the film. The Hendrixian JoJo (Martin Luther) plays a mean guitar and doesn't quite dig the Purple Haze outfit forced onto him by Sadie (Dana Fuchs), the bourbon-swigging Janis to his Jimi. The latter is fittingly Sexy, enough to make us rethink the truth -- that the boys wrote it about the Maharishi Mahesh Yogi (Sexy Sadie, what have you done? You made a fool of everyone) and changed the name from Maha-rishi to Sexy Sadie to avoid litigation.
This, then, is a film about universality of meaning, best expressed by Prudence (TV Carpio), a lesbian cheerleader who takes the happiest of songs and, convincingly, makes it sad. The gang lives in worn-down, very cool New York digs, and, on a stormy night, she enters the room with a faceful of bruises, and stands dripping on the wooden floor.
Sadie walks by, bemused, sees Prudence and asks, 'Where'd she come from?' Jude unblinkingly deadpans, 'She came in through the bathroom window.'
Take a bow, Julie.
Elvis himself, I firmly believe, was a Beatles person. Leave the cynicism on the flower-patterned welcome mat, walk in and grin through this film. Be warned: you may have to head to karaoke bar right after. Rodgers-Hammerstein they may not be, but a Lennon-McCartney musical is very special indeed.
Rediff Rating: A Fab