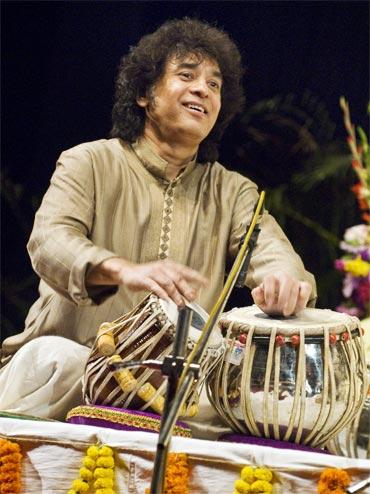 As the tabla maestro Zakir Hussain is heading to New York to perform at a Lincoln Center theatre as part of the Zakir Hussain's Masters of Percussion national tour, he says he is thankful to his fans for welcoming again many highly talented artists from various Indian regions.
"I am enjoying performing with them enormously," he says. "And that means the audiences are going to have a lot of fun, too."
The New York events slated for March 12 and 13 feature drummers Taufiq Qureshi, Navin Sharma, Sridar Parthsarathy and the Motilal Dhakis from Bengal, as well as sarangi player Sabir Khan and the violin duo of Ganesh and Kumaresh.
The events are organised by the highly reputed and legend-making World Music Institute which has hosted many Zakir Hussain concerts in the city over two and half decades.
The artists need big encouragement not only in India but also abroad, he continues, adding that the idea for promoting these talents came from his father Ustad Allah Rakha over two decades ago.
"There was a time when percussionists were treated like second class citizens," he says. "Over the last few decades things have become much better for artists like me."
There was a time at the beginning of his career, percussion artists were made to travel in third class on trains while the instrumental or vocal artists got the air ticket, he adds.
Today, when a well-known singer or sarod or sitar maestro is playing, connoisseurs also want to know who is accompanying them on the tabla or another popular percussion instrument.
"Even then there are wonderful percussionist traditions across India that many people are not aware of," he continues.
"There are 200 percussionist traditions I know of across India. My father [the renowned tabla exponent, Allah Rakha] had wanted me to highlight their work by training them for public performances in India and abroad. And he blessed the project I was going to start. I have been touring with a number of percussionist artists since 1996."
The tour which began in Seattle early this month would have played in more than a dozen cities before ending in early April. The other percussionists will accompany him after the New York events to Tampa, Florida, Amherst and Boston, Massachusetts, Chicago, Lexington, Kentucky. Buffalo and Ithaca, New York State, Burlington, Vermont and Hanover, and New Hampshire.
World Music Institute which is marking its 25th year continues to be the most important venue for performing artists from across the globe who are offering alternate music.
Many legendary American folk and Jazz musicians have also performed under WMI aegis with artists from across the globe. WMI hosts, for example, musical and dance events featuring artists from such countries as Morocco, Turkey, Ireland, Russia, Spain and Japan, in addition to India and Pakistan.
Over the years, it has hosted a number of emerging artists including Nusrat Fateh Ali Khan and Shiv-Hari who went on to become legends. WMI has also brought to America the Rajasthani folk singers and dancers as well as the Sufi musicians whose ancestors came from East Africa and settled down in Gujarat centuries ago.
One cannot think of a major performing artist from India, including the likes of the late Ustad Ali Akbar Khan who settled in the West, who has not performed for WMI at the beginning of their career.
"Once WMI hosts you in New York, everyone wants your performance in America and Canada," Ustad Vilayat Khan had said many years ago.
The New York events on March 12 and 13 could not have been organised anyone more appreciative of Indian musical traditions than WMI's founders Robert and Helene Browning, Hussain adds.
"They have been doing a thankless but superb job, especially when the economy is down," he continues. "They are not promoting hip hop or popular music, and given the fact that the theater rentals in New York are phenomenally high and you give every penny you could make from a performance to the theaters, Robert and Helene have done an incredible job."
WMI is also known for celebrating fusion music and dance. For instance, it will hold Bombay Jazz concert on March 19 featuring guitar master Larry Coryell, one of the pioneers of jazz-rock, saxophone virtuoso George Brooks, bansuri exponent Ronu Majumdar; and tabla maestro Aditya Kalyanpur.
The group captures the melodic richness of raga and the powerful rhythmic interplay that is common to both Indian classical music and jazz while developing a harmonic exploration rarely heard in East-West fusions, says the press notes for the event.