'She broke down, I broke down... because it is such an intense film.'
'The lines blurred between being on screen and our real emotions towards each other.'
The Kapoor siblings turn reel life siblings in Haseena Parkar.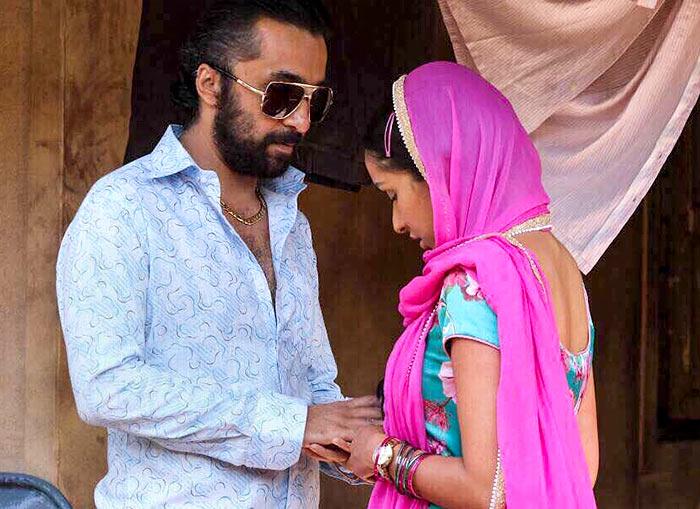 IMAGE: Siddhanth and Shraddha Kapoor as gangster Dawood Ibrahim and his sister Haseena Parkar in Haseena Parkar.
Shraddha Kapoor and her brother Siddhanth Kapoor play siblings in Haseena Parkar, the film based on the lives of fugitive gangster Dawood Ibrahim and his late sister Haseena Parkar.
"My parents still don't believe that we are on screen together!" exclaims Siddhanth.
"They were really excited that my brother and I are doing a film together," says Shraddha.
Shakti Kapoor and Shivangi Kolhapure, their parents, are thrilled and nervous in equal measure.
"My brother told me he is doing a film called Haseena where he is playing Dawood Ibrahim. He told me a film is being made on Dawood's sister," says Shraddha, adding that is how she first heard of the don's sister.
Little did she know that she would be offered the title role.
"I was very excited because I am doing something drastically different from what I've done before. It was very exciting to gain weight for a character and to do whatever you need to do to get into the skin of that character," she gushes.
Shraddha spent time with Haseena Parkar's family to get to know her better.
"I didn't get to meet her, she passed away (in 2014). Spending time with her family and, of course, the anecdotes Appu (Apoorva Lakhia, director) had about her, because he had spent time with her."
Shraddha plays a mother for the first time in this film.
"I watched pregnancy videos to understand what it would feel like to be a mom, there are portions where I am shown pregnant. I play a mother of four. Being a mom is equivalent to being a superhero, so I tried my best to get my motherly instinct out," she says.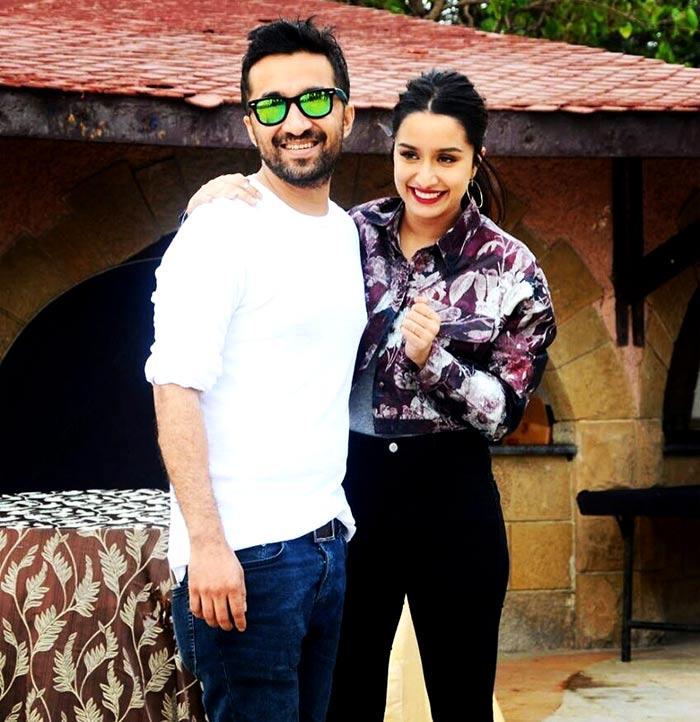 IMAGE: 'He is older than me,' Shraddha says. 'But mentally, I feel older than him.' Photograph: Kind courtesy, Siddhanth Kapoor/Instagram
"Haseena was supposed to be played by someone else, but it didn't work out because of dates," says Siddhanth. "Apoorva sir was like 'teri behen ko milte hai aur try karte hai (We'll meet your sister and find out if she will be interested)."
It all worked out.
"It was amazing because when do you get this opportunity to act with your brother?" asks Shraddha.
"Appu was very clear that he wanted us to be 'just the way you guys are in real life'," she adds.
"She's my sister, so we automatically blended in playing brother-sister, but Haseena was more intense than what we share in real life. So it was difficult to switch on to a different brother-sister mode and then switch off and returning to normal," Siddhanth says.
The siblings broke down quite a few times on set, and the shoot had to be called off for some time.
"We broke down a few times. She broke down, I broke down... because it is such an intense film," Siddhanth says.
"I think the lines blurred between being on screen and our real emotions towards each other. Appu is very sweet. He let us calm down, and gave us time."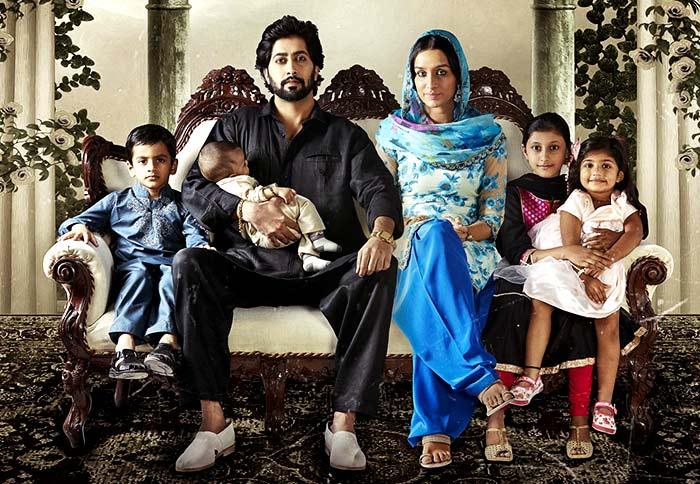 IMAGE: Ankur Bhatia and Shraddha in Haseena Parkar.
Dawood has been played by Emraan Hashmi in Once Upon A Time In Mumbaai, Rishi Kapoor in D-Day, Ajay Devgn in Company, Akshay Kumar in Once Upon A Time In Mumbaai Dobaara and last fortnight by Farhan Akhtar in Daddy. How will his portrayal stand out?
"I never really concentrated on who has played Dawood Ibrahim before. They have all played him in a particular time, between 35 and 45 years, but I play him from 18 years," says Siddanth.
"I had the freedom to show something else because no one knows what he looked like, how he spoke, walked or his behavioural patterns when he was young. I did a lot of study, read a lot of things about him," Siddhanth says.
Haseena's character has been shown from ages 17 to 40 to 45.
"There were so many things to her, as she was growing up. We've tried to show how she evolved as a person. We shot this film as linear as possible, so that really helped," Shraddha says.
"It is more difficult (to play a real life character) because you have to stick to the character and be honest to it," Siddhanth feels.
"You have to think, sit, eat and do everything like him. The whole graph and the film has to be bang on. You cannot lose your character in the middle."
Shraddha agrees: "You've to be as true as possible to how you are representing that character on the big screen."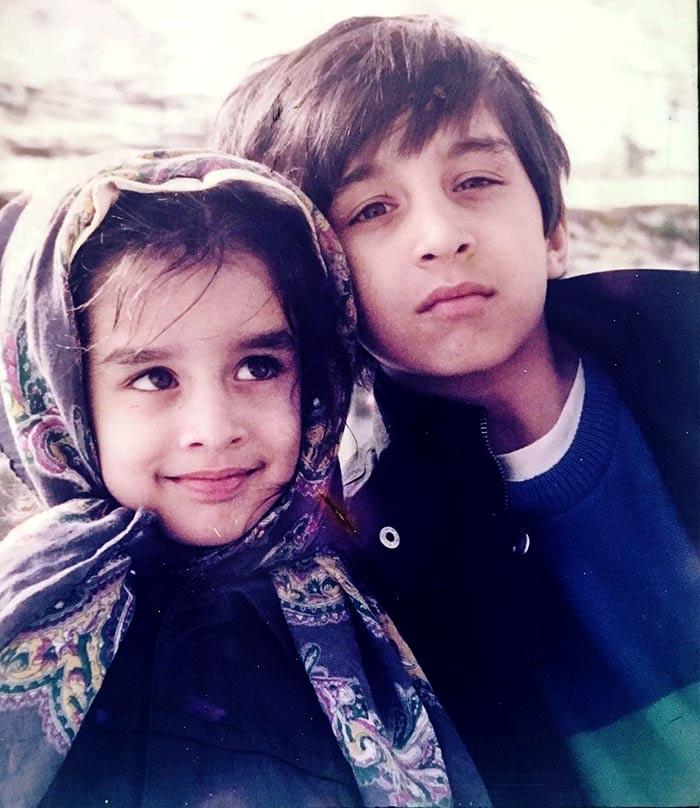 IMAGE: Shraddha captions this picture, 'There is no one like you. The way you are always there for your family & friends. The way you are the most selfless person. The way you spread happiness everywhere you go. The way everyone loves you because you are so lovable. The way you always make me feel like you have my back. No matter what. Love you more than anything in this universe.' Photograph: Kind courtesy Shraddha Kapoor/Instagram
Did they squabble as kids? Surprisingly, they have a different take on this.
"We never had any hang ups and weren't jealous of each other. We were best friends since the time we knew each other. It's still the same. I am very possessive," Siddhanth says with a smile.
Shraddha has another take. "We were like any other brother-sister while growing up. We would fight, but after a point, we stopped and became more like friends. I think that happened when I turned 18 or 19," she looks back.
On set, both were supportive of each other. Apoorva Lakhia especially noticed that.
"If he is saying that, he is right. It's something that I probably do without realising," Shraddha says.
"We discuss our projects with each other. We share a lot of advice about what to do and what not to," Siddhanth says. "We trust each other's decisions and views on each other's careers."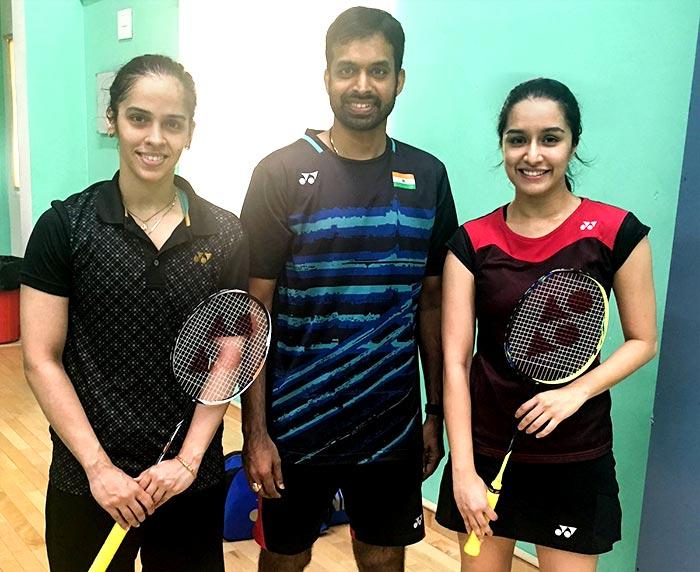 IMAGE: Shraddha with badminton champs Saina Nehwal and her coach Pullela Gopichand. Photograph: Kind courtesy Saina Nehwal/Twitter
Shraddha wants to play different kinds of roles now.
"I want to be a part of different kinds of films, play different kinds of characters," she says.
Her next film is Sahoo, opposite Baahubali star Prabhas, and Shraddha is very happy to be a part of it.
"It's my first multi-lingual film, shot in Hindi and Telugu. I am really, really, thrilled about it. It is such an amazing script and a great character. I am over the moon about working with Prabhas," she says with a smile.
She is also working on a biopic on badminton star Saina Nahwal. "I played badminton when I was a kid. I would enjoy it."
What about her dad Shakti Kapoor telling Rediff.com's Patcy N that he would get her married off in three years?
"Did he say that?" asks Shraddha. "Well, he has not said that to me. If he does, I'll take it from there."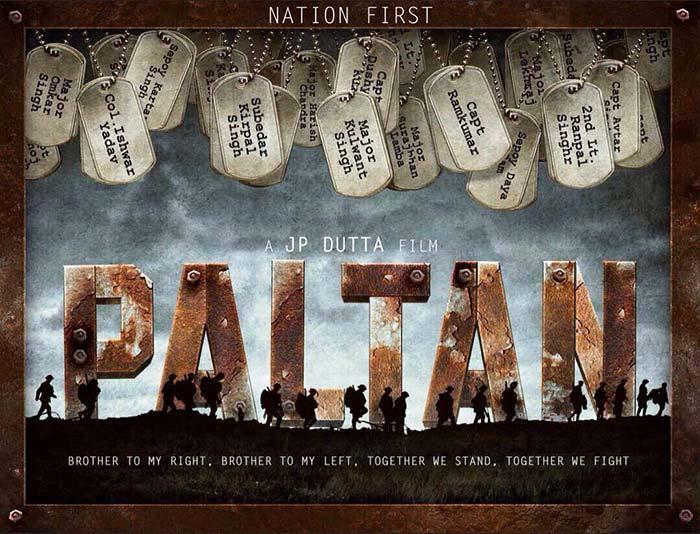 IMAGE: The first look of J P Dutta's Paltan.
"I don't do anything that is normal," Siddhanth says.
"If you have seen Jazbaa, Shootout at Wadala, Ugly, Haseena, they are very different and out of the box."
Siddhanth's next film is Paltan where he plays a soldier.
"I am probably the youngest guy in the film," he says.
J P Dutta's film also stars Jackie Shroff, Arjun Rampal, Abhishek Bachchan.
"He is like the best guy to be around!" Siddhanth says of Jackie.
The young actor is also excited because it is his first positive role.
"Arjun is coming out of Daddy and I am coming out of Haseena, so two gangsters will meet and play army personnel. It's going to be quite crazy," he says with a laugh.
Siddhanth wants to try his hand at direction as well as Hollywood.
He would like to direct Shraddha. "She wants to direct my father and I want to direct her!" he says with a laugh.
"I would love to do an intense crazy film with my sister."