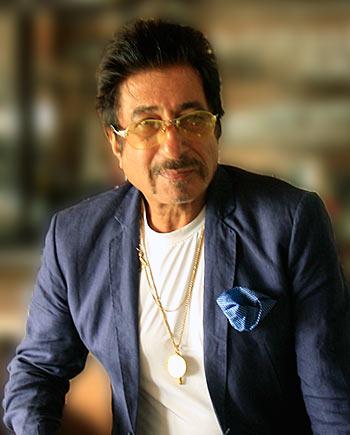 'My stay in Mumbai was taken care of by Vinod Khanna, food by Daisy Irani, work was provided by Feroz Khan, and Sunil Dutt paid me without my doing any work.'
'My wife is 12 years younger than me. She was a child artiste. I got the title Shakti Kapoor: Cradle snatcher. But she was too good so I decided to marry her.'
'I will marry Shraddha off after three years. I don't want her to be an older heroine or marry at 40. I want her to marry at the peak of her career. But I will not force her.'
Straight talk from Shakti Kapoor.
Shakti Kapoor may be famous for his villainous roles on screen, but in real life, he's a fun person, who gets excited with the smallest things!
Owner of a sprawling sea-facing home in Mumbai's posh Juhu suburb, Kapoor adores his family. And yet, he admits he did not know his daughter Shraddha could sing!
In the first part of an interesting interview, Kapoor tells Patcy N/Rediff.com how he became a movie star.

'I had no interest in acting when I joined FTII'
I grew up in Karol Bagh, Delhi. My father sold cloth; we also had a tailoring shop. My mother was a housewife.
After college, my father wanted me to join the family business, but I didn't want that. I wanted to do something on my own, like open a travel agency.
I trained for six months to start a travel agency.
My father was supposed to give me a portion of his cloth shop for my travel agency, but he refused.
I was very hurt, so I joined FTT (the Film and Television Institute of India) in Pune and did a two-year diploma course in acting.
I had no interest in acting, but my college friends were from the Delhi theatre circle. They filled in their forms and mine too. When I got a call from FTII, I was shocked -- all my friends were rejected and I was selected!
There were two other boys from Delhi who got selected that year: Naseeruddin Shah and Anil Verma.
I signed my first film in 1975, when I was still at the institute.
Director Arjun Hingorani came to the institute to choose new boys for his film, Khel Khilari Ka. He selected three boys -- Phunsok Ladhakhi, Dhruv and me -- and we came to Mumbai.
The film released in 1977. I was paid Rs 5,000; the signing amount was Rs 250. In those days, if you had Rs 500 in your pocket, you could live lavishly.
I modelled for Suryvanshi and Gwalior suitings, Panama cigarettes and made enough money. I did all kinds of work to earn money.
I was staying as a paying guest in Mumbai. Later, Vinod Khanna gave me his house to stay in for five years without paying any rent. I knew his brother Pramod Khanna's brother-in-law Anil Verma.
I did a few films as a hero -- Madine Ki Galiyan (1981), Zakhmee Insaan and Begunaah Qaidi (1982) -- but they did not work.
After doing many films as a villain, I signed Bhagya Vidhata where I played the hero again. It was directed by Pahlaj Nihalani; Sonam and Neelam were the heroines.
Thankfully, that movie was never completed and I remained a villain. Had that film released, it would have been the biggest blunder of my career.
'Feroz Khan said looked dangerous because of my eyes'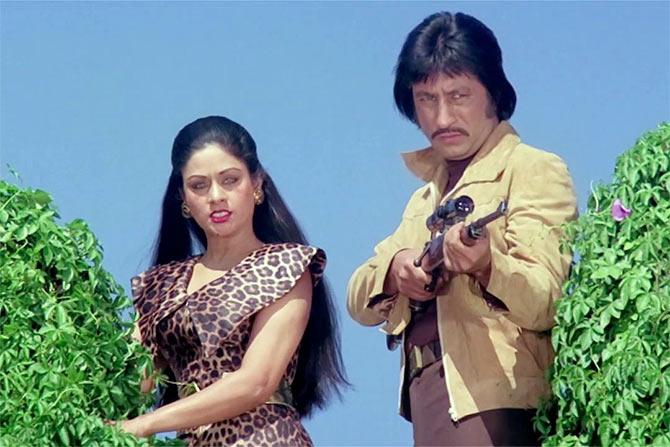 Image: Aruna Irani and Shakti Kapoor in Qurbani.
My biggest break was Qurbani (1980). I did about 15 films before Qurbani, but Feroz Khansaab did not know that.
It's interesting how I met Feroz Khansaab. I was driving my old 1961 Fiat, bought from the modelling money.
Feroz Khan was driving his brand new Mercedes. We had an accident on Linking Road in Bandra (north-west Mumbai). I immediately got down to fight.
Khansaab got out of the car.
I forgot about the accident and told him, 'Sir, I have come from FTII and my name is Shakti Kapoor and I want to work with you. Can you please give me a role in your film?'
In those days, he was writing Qurbani with his writer K K Shukla.
Feroz Khan did not say anything. He left in his car as a crowd had accumulated.
After reaching his office, he called K K Shukla and told him about our meeting, and how I looked dangerous because of my eyes.
He wanted to cast me as the film's villain. But Shuklasaab did not know who had had an accident with Feroz Khan.
I had met Shuklasaab's wife (actress) Daisy Irani at a party, and they had liked me. Whenever I was hungry, I would go to her house, and she would feed me.
So that evening I went to Daisy Irani's house.
Shuklasaab told me, 'You have bad luck.'
I asked him what happened.
He told me he had recommended my name for a role in Qurbani, but it was rejected because some idiot banged his car against Feroz Khan's car and he wanted that boy.
I told him that it was me, and he immediately called Feroz Khan to tell he had found the boy. That's how I landed the role in Qurbani.
Feroz Khan treated me like his own son. If I had fever, he would send his car and driver to my house to take me to a doctor.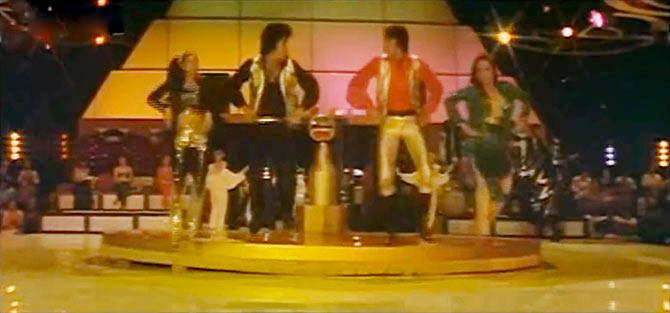 Image: Shakti Kapoor and Sanjay Dutt in Rocky.
My real name is Sunil Kapoor. Sunil Duttsaab changed my name to Shakti because his name was also Sunil. My name was changed during Qurbani.
I did my first film with Duttsaab, Yari Dushmani, in 1980. It starred him and Reena Roy. I played the villain.
The next year, I did Rocky with Sanjay Dutt, and played the villain again. I must be the only actor who was villain to all the actors -- Dharmendra, Feroz Khan and Vinod Khanna, and today to their kids.
I was working in Sunil Dutt's production house Ajanta Arts, and Duttsaab was very good to me when he came to know I was financially weak.
Actually, I was not that badly off financially. I would do a lot of drama in front of him. I would tell him I have only one shirt, but it was a lie.
One day he told me, you come every day and keep crying that you have no money, so let's fix a monthly salary for you.
In those days, I was paid Rs 1,500 a month, not for a film, but just like that so I didn't have to go hungry.
For Rocky, I was paid separately. Then I told Duttsaab to stop my monthly salary because I felt awkward getting double money.
Still, Duttsaab always gave me something. If he went abroad and shopped for his son Sanjay, or his daughters, he would buy clothes for me too. Sanjay Dutt was like a kid brother to me. We would sleep in one room during shoots and eat together.
I have done 40 films with Sanjay Dutt. He would come regularly to my house and eat.
I came from Delhi with nothing in hand, but I met some very good people in the industry at the start of my career.
My stay was taken care of by Vinod Khanna, food by Daisy Irani, work was given by Feroz Khan, and Sunil Dutt paid me without my doing any work.
'I bought my first house in Juhu for Rs 70,000'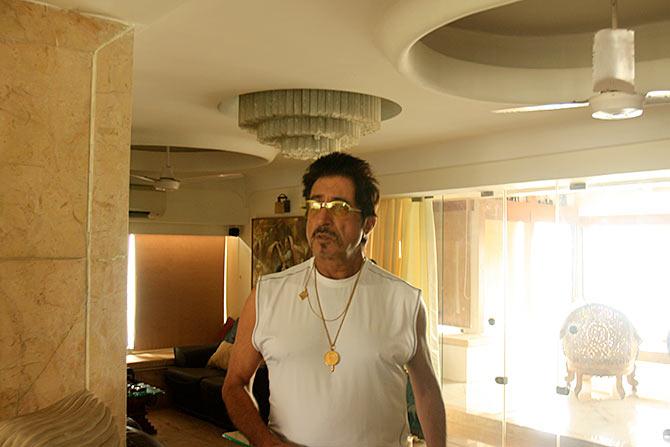 Image: Shakti Kapoor at his lavish Mumbai home. Photograph: NV Reuben/Rediff.com
After five years in Mumbai, I bought my first house, a one bedroom apartment in Juhu, for Rs 70,000. I had acted in about 50 to 70 films by then.
After seven years, I bought my next house -- a three bedroom apartment, in which I live today -- for Rs 7 lakh (Rs 700,000), after taking a loan from Shyam Shroffsaab (the owner of Shringar Films).
After I got married, I bought the adjoining flat.
My wife Shivangi was very lucky for me. Even though I had already done 200 films and was earning good money, I got more prosperous after I married her.
After Siddhant was born, I bought another flat on the same floor. Today, I own the whole floor.
I have done about 700 films in multiple languages.
Though I was working so hard, I did not neglect my family. When I got married, I took my wife with me for all the outdoor shootings.
'Shivangi and I eloped'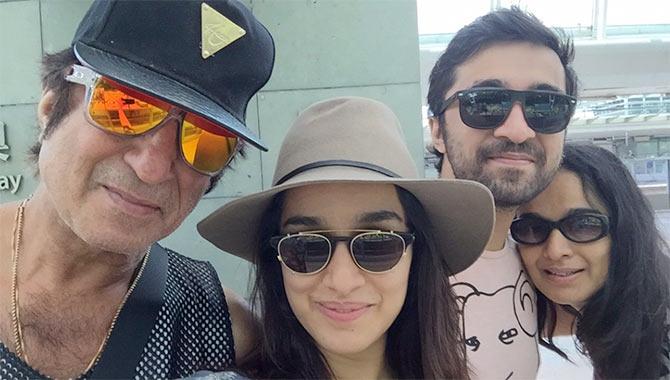 Image: Shakti Kapoor with his daughter Shraddha Kapoor, son Siddhant and wife Shivangi.
Shivangi and I eloped and got married.
She is Maharashtrian and I am Punjabi. I played the villain and my reputation was not good. Her family did not agree to the marriage, so we had to run away.
My wife is 12 years younger than me. She was a child artiste. In Kismet, starring Mithun Chakraborty and Ranjeeta, she played Mithun's younger sister. We fell in love on the sets of that film.
I got the title Shakti Kapoor: Cradle snatcher. But she was too good so I decided to marry her.
Her parents locked her in the house, but one day she ran away. She was 18 when we got married (in 1982).
When she was 19, my son Siddhant was born. That was the first time Shivangi's mother spoke to her after our marriage, when she came to meet her at Breach Candy Hospital.
I remember I had Rs 2,700 in my pocket when I got the news that I had a baby boy.
I threw the money in the air in the hospital. As I turned, I saw my mother-in-law standing there.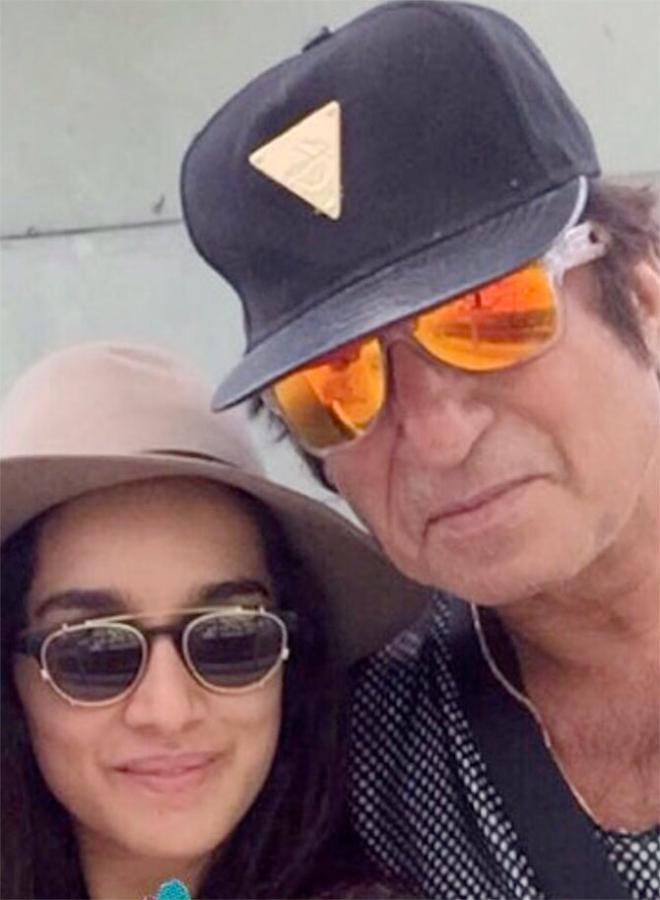 Image: Shakti Kapoor with his star daughter Shraddha Kapoor.
My kids would tell me not to do negative roles because their classmates in school would tell them your father raped a girl, or he beats people, or gets beaten up all the time.
Siddhant would get upset.
I sat with them one day and made them understand that this is my profession.
Shraddha was very much into her studies. She would be engrossed in her books and did not watch many movies.
Siddhant's first plan was to be a cricketer. He has played state level cricket and we thought he would join the Indian team. Then he told us he wanted to be an actor.
Shraddha also never planned to be an actress; she wanted to be an astronaut! She went to Boston for further studies.
Just a few days back, she told me, 'Papa, I always knew I would be an actress.'
As a child, she would take part in school plays.
She was four years old when she began playing the piano. I never heard her sing in the house ever. I never knew she was such a good singer; she sang Galliyan (Ek Villain) like a professional.
She had come home on vacation from Boston when she met Ambika Hinduja (the producer of Teen Patti), who gave Shraddha her first break.
I think Shraddha is a natural actress. I went to an acting school and trained, and still I was so nervous in front of the camera. But Shraddha is effortless. The other day I saw Shraddha's solo dance performance in ABCD 2. I started crying.
Shraddha was a simple child. Siddhant was naughty. Both were very close to me, but now that they have grown up, they are closer to their mother.
Shraddha is short-tempered, but she keeps quiet when she is angry. She closes her door and locks herself in. Even if she is sad, she doesn't react.
Since Siddhant was interested in acting, I sent him to New York to learn acting. After that, I told him to go to London to learn direction and make short films. He also learnt dance and yoga. I told him to learn everything that I learnt at the institute.
After he came back, I felt he was not completely ready. I was working with Priyadarshan and requested him to take Siddhant as his assistant. He worked as an assistant on five films. People thought he wanted to be a director, but he was training for acting.
Today, Siddhant is in a place where he can become a Feroz Khan or Manoj Kumar, and can direct and act in his home production. He has four releases this year.
I will marry Shraddha off after three years. I don't want her to be an older heroine or marry at 40. I want her to marry at the peak of her career. But I will not force her.
I tell Shraddha to channelise her money and not get carried away. Today, she is young and replacing top actresses in endorsements, but there will come a time when someone will replace her.
Shraddha spends a lot of money; she spends more than she earns.
I was also fond of sports cars, but I bought second hand cars, that too after a lot of haggling.
Shraddha is not like that; she will buy something costing Rs 14 lakh (em>Rs 1.4 million for Rs 20 lakh (Rs 2 million).
People today call me 'Shraddha's father.' I feel proud.