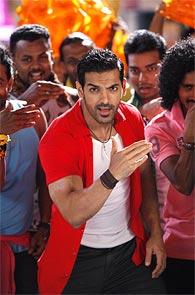 Originally intended to be shot on actress Huma Qureshi, Anees Bazmi thought it would make more sense to shoot an item number in his forthcoming film, Welcome Back, with a group of dancers rather than just a single sizzling seductress.

The number was duly re-recorded and shot with six item girls last week.

Revealing the details, Anees says, "We thought the song worked better with a group of dancers. I discussed it with my music composer Anu Malik, who was all for it. We re-recorded and shot the number with six dancers. One of them is Sambhavana Seth.
Two of the girls are foreigners. Then, there are three chorus dancers from my choreographer Ganesh Acharya's team. The six girls have whipped up an interesting dance storm."
Anees dismisses talk of Huma Qureshi's exit from the item song.
"I read that she asked for too much money. This is just trying to sensationalize a non-issue. The reason she couldn't do the number was the non-availability of suitable dates. Instead, we got six dancers who not only knew how to shake a leg but also had no dates issues," he says.
Welcome Back is a sequel of Bazmi's big hit Welcome, and stars John Abraham, Shruti Haasan, Anil Kapoor, Nana Patekar and Paresh Rawal.
In the picture: John Abraham in a still from Welcome Back.