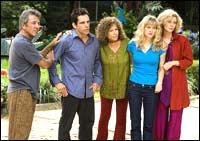 Disregarding critics, fans across North America warmly embraced Meet The Fockers leading to a dynamite Christmas weekend of an estimated $44.7 million.
The top movie of the week, featuring Robert De Niro, Ben Stiller, Dustin Hoffman and Barbra Streisand, grossed $68.5 million in five days.
Another comedy also slapped by critics opened well at the second spot, though at some distance from Fockers. The low budget Fat Albert, opening on Christmas Day, grossed $12.7 million in just two days. 
Inspired by Bill Cosby's character Fat Albert, the live action/animated movie centres on a group of adolescents growing up in a Philadelphia neighbourhood. Some critics were not amused by it. Warned New York Post: 'Hey! Hey! Hey! Stay away from Fat Albert!' Apparently, many did not heed the warning.
Many films expected to do excellent business in the festive season failed to get a big bounce, particularly Lemony Snicket's A Series Of Unfortunate Events, which, at the third position on the chart, grossed just about $12.5 million, falling by 58 percent compared to previous week. The Jim Carrey dark comedy has grossed a decent, but not terrific, $59 million.
Martin Scorsese's lavish biopic The Aviator, which jumped from 40 to 1,796 screens, opened to good numbers at the fourth position. But it will be many more weeks before we will know its fate. With a budget of about $110 million, the movie has to be a steady earner for over a month, and a big earner abroad to recoup its heavy investment.
At fifth place is Ocean's Twelve, which is a hit but apparently lacks the stamina of its predecessor. After three weeks, it has grossed a healthy but unspectacular $89 million. Hollywood insiders say the film lacks the magic of its predecessor, but fans are rushing to see it.
There were two more newcomers but none made a solid impact.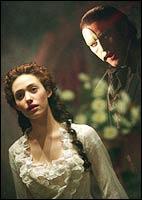 Horror film Darkness made just about $6 million in sixth place. And the musical Andrew Lloyd Webber's The Phantom Of The Opera stood at tenth spot with a $4.2 million gross in 620 theatres. Its real test will come when it goes for more expansion in the next four weeks.
Wes Anderson's comedy The Life Aquatic With Steve Zissou added over 1,103 theatres on Christmas Day and grossed about $4.8 million. Anderson has almost a cult status, and the big question is if this eccentric comedy will be able to relate to a larger audience. Currently, it is ninth on the chart, and has to gross over $50 million to show the promise of a breakeven run.
Critics did not embrace the film wholeheartedly but many felt it was a far better a film than most of the escapist movies around. 'I can't recommend it, but I would not discourage you from seeing it,' wrote Roger Ebert in the Chicago Sun-Times.
The film revolves around Steve Zissou (Bill Murray), leading an expedition to hunt down the mysterious and elusive Jaguar Shark supposed to have killed his partner. The expedition becomes complicated by a number of reasons, including some of the people (a wonderful cast) accompanying Zissou.
Box office estimates for North America, December 24 to 26
| | | | | |
| --- | --- | --- | --- | --- |
| Rank | Film | Weekend gross | Total gross | Number of weeks |
| 1 | Meet The Fockers | $44.7 million | $68.5m | New |
| 2 | Fat Albert | $12.7 million  | $12.7m | New  |
| 3 | Lemony Snicket's A Series Of Unfortunate Events | $12.5 million (down 58%) | $59m | 2 |
| 4 | The Aviator | $9.4 million (up 997%) | $10.7m | 2 |
| 5 | Ocean's Twelve | $8.6 million (down 52%) | $88.8m | 3 |
| 6 | Darkness | $6.4 million | $6.4m | New  |
| 7 | The Polar Express | $6.2 million (down 25%) | $140m | 7  |
| 8 | Spanglish | $5 million (down 43%) | $18.5m | 2  |
| 9 | The Life Aquatic With Steve Zissou | $4.8 million (up 4840%) | $5.2m | 3 |
| 10 | Andrew Lloyd Webber's The Phantom Of The Opera | $4.2 million | $6.5m | New |