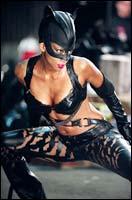 While the Halle Berry-starrer Catwoman gasped for life over the weekend, the amnesic hero in The Bourne Supremacy grabbed the top spot at the box office with a mind-boggling $53 million gross, indicating a long life for the series.
Who would have thought a Matt Damon film could open to such a huge number? Even if the film were to lose altitude next weekend because of the competition from M Night Shyamalan's The Village and the Denzel Washington-starrer Manchurian Candidate, it may surpass the $120 million that the previous Bourne movie had grossed in North America.
The Bourne Identity had opened with about $27 million two years ago and proved that a well-made Damon film could attract big audiences.
Costing just about $75 million – nearly 30 per cent less than such turkeys as King Arthur – The Bourne Supremacy could become profitable in about three weeks. Damon plays a man who is increasingly drawn into his past, and who has to fight the continual attacks on his life. He has given a powerful performance, proving that he can easily sustain a series.
But Halle Berry, the first African American woman to win an Oscar in the leading role category, saw her hopes of opening a movie at the top position crushed. The much reviled Catwoman, which had a silly script and awful direction, grossed just about $17.5 million at the third position.
The sci-fi film I, Robot, which had received mediocre reviews, plunged by about 57 per cent. Yet, the Will Smith film looks like it is headed for a more than decent $150 million gross in North America alone. The star is one of the several American actors with a bigger market abroad, and that bodes well for his new film.
Still potent, Spider-Man 2 followed Catwoman, occupying fourth place. It was followed by the sentimental, small-budget film A Cinderella Story, which has made a small fortune for Warner Bros.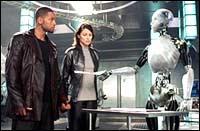 The next three films on the chart, all hits, were small-budget films compared to the likes of King Arthur ($100 million plus) and Catwoman ($90 million): Anchorman cost about $25 million, Fahrenheit 9/11 cost barely $6 million, and The Notebook just about $25 million.
Having opened to weak numbers, King Arthur could not save face in the subsequent weeks. By next week, it may disappear from the top 10 list.
Adding to the list of medium- and small- budget films that performed wonders at the box office is Dodgeball, which has dropped out of the top ten list, but is still attracting crowds. The film, which cost just about $20 million, has grossed about $110 million in North America, and could be around for at least three more weeks.
The box office this week:
Rank

Film

Weekend gross

Total
gross

Number
of weeks

1

The Bourne Supremacy

$53.5 million

$53.5m

New

2

I, Robot

$22 million (less 57% from the previous weekend)

$95m

2

3

Catwoman

$17.5 million

$17.5m

New

4

Spider-Man 2

$15 million (less 39% from the previous weekend)

$328m

4

5

A Cinderella Story

$8 million (less 40% from the previous weekend) 

$28m

2

6

Anchorman

$7 million (less 49% from the previous weekend)

$71m

3

7

Fahrenheit 9/11

$5 million (less 30% from the previous weekend)

$103m

5

8

The Notebook

$4.5 million (less 22% from the previous weekend)

$62m

5

9

King Arthur

$3 million (less 56% from the previous weekend)

$45m

3

10

Shrek 2

$2.5 (less 27% from the previous weekend)

$429m

10
Click here for More Box Office Reports