The smart and endearing laugh riot Hangover, and the life-affirming animation hit Up made sure that the fast-paced, extortion thriller The Taking of Pelham 123 did not race to the top of the box office in North America last weekend.
Star-driven films should not have a problem racing to the top in summer, the busiest part of the year at the movies. But the Denzel Washington-John Travolta starring Pelham, with its $25 million three-day gross, was no match for Hangover ($33 million) and Up ($30 million) both in their second week.
The New York subway heist drama Pelham had a disappointing opening. But if the film does smash business abroad, it could recover its $100 million budget and make a decent profit. Travolta, who plays the villain in the film, has a bigger following abroad than at home, and in recent years Washington, like Will Smith, has consolidated and expanded his fan base in foreign countries, especially Japan, France, Italy and Spain, not to forget the United Kingdom.
The remake of a 1974 cult hit, Pelham, is a thoroughly updated thriller.
Claudia Puig in USA Today wrote that while often, remakes of classic films are a wasted exercise, 'Happily, The Taking of Pelham 1 2 3 benefits from a fresh makeover.

'Though the original movie, based on the novel by John Godey, had an undeniable sense of suspense and some strong performances, it feels dated,' she reasoned. 'In this retelling, director Tony Scott uses quick panning shots to intensify the action scenes -- particularly car chases and subway trains careening out of control. And Brian Helgeland's script gives the characters more depth and dimension.'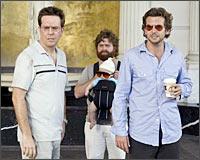 Many critics praised the big star chemistry of the new film.

'Even at a distance from each other (Washington/Travolta), they conduct a tag-team master class in old-style movie star technique, barreling through every cliché and nugget of corn the script has to offer with verve and conviction,' wrote The New York Times lead critic, A O Scott. 'Even when you don't really believe them, they're always a lot of fun to watch.'

But some critics, while praising a few performances, faulted Scott for concentrating too much on special effects and action, especially in the film's second half.

'Whereas the original, directed by Joseph Sargent, was essentially a well-oiled B movie, the new incarnation, directed by Tony (Enemy of the State) Scott, is bristling with high-tech gimcrackery and over-the-top camera flourishes,' declared Peter Rainer in the Christian Science Monitor.

What makes Hangover, which cost less than half the Pelham budget, special that it became an unexpected hit at the number one spot two weeks ago, and has continued to have a strong life? For the record, Up, cost $175 million, the typical budget of effects-driven films such as Terminator Salvation.
Audiences are surprised by the inventiveness and quirky humour in Hangover, which will surely become one of the most profitable films of the year, especially after the release of its DVD. Besides, the word-of-mouth for the film is very strong, leading to repeat viewing.
An outrageously funny film centering on the wrong turns at a pre-wedding event, it is also a film that does not offend anyone's intelligence.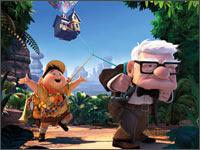 The movie, which has grossed $82 million in North America so far, is expected to make over $150 million in the final reckoning, with some observers believing that its box-office honeymoon will last longer than the expectations and it would eventually make $200 million. Whatever it makes abroad will be a big bonus.
In its initial run abroad, the film has grossed an impressive $5.2 million in three days in the United Kingdom. The American humour, the conventional belief has, does not travel well outside, especially in Europe but Hangover could be one of the exceptions.   
Also displaying strong legs, the Disney-Pixar hit Up has already grossed $165 million in North America. It is expected to make over $250 million in the domestic market and at least that amount in foreign territories.
Though the latest Eddie Murphy film, Imagine That, aimed at the families flopped miserably -- it took just about $5.6 million over the weekend -- the reception for family movies in recent months has been very good.
Though it did not get the kind of glowing reviews Up received, Night at the Museum: Battle of the Smithsonian is doing brisk business in North America and abroad. It has already grossed $320 million worldwide, with plenty to come.
In the highly lucrative territories outside North America, Terminator Salvation ruled the box office for the second week, more than making up for its soft run in the home territory.
Starring Christian Bale, Terminator Salvation grossed over the weekend $46.1 million outside North America, according to distributor Sony, with $10.7 million coming from Japan and a mind-blowing $9 million from China. In North America, it is headed for a $120 million final but abroad, it might earn over $250 million. Many American films earn abroad 150 percent of its domestic gross. But a few earn double. And just one or two earn three times.
The Tom Hanks starring thriller Angels & Demons, for instance, is headed for an awesome $350 million in foreign territories towering above its so-so $130 million gross in North America. 
 
Among the losers this summer, Eddie Murphy may take a long time to recover. The star, who used to get $20 million per movie till the other year, has seen his career plummet. His Meet Dave was a stinker a year ago and now, he has suffered Imagine That.
The story of a financial executive who can't stop his career declining but who might see some solutions to his miseries in his daughter's imaginary world, the film was not expected to be a big hit but with millions of children enjoying their summer break, distributor Paramount perhaps hoped that it could attract a decent audience.
But with Up very much around and doing sturdy business, Imagine That just failed to engage the targeted audience.