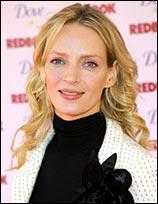 Move over, Nicole -- here comes the Bride.
In one of the funniest examples of postmodern Hollywood plot-reprising, Mel Brooks' 1968 classic comedy, The Producers, moved to Broadway a few years ago with rousing success.
Now, after the number of plaudits it gathered, it only stood to bizarre logic that the musical based on the film should, in turn, have a film based on it. As if it wasn't enough to have a film about two producers making a bad play. Talk about layers!
Comic genius Brooks will not, sadly, helm the third incarnation of The Producers, to be released by Universal Pictures on December 21, 2005.
The film, directed by Susan Stroman, will see Nathan Lane and Matthew Broderick continue in their much-appreciated roles of Max Bialystock and Leo Bloom, respectively.
The role up for grabs, however, was that of Ulla, their funny, silly, and extremely sexy secretary -- a comic part to die for. Nicole Kidman was quite willing for the part, but dropped out because she has beginning work on Eucalyptus right after finishing Sony's big-screen adaptation of Bewitched.
Now, the New York Post reports that the Ulla role will go to Kill Bill star Uma Thurman. A stunning casting coup indeed. The film is scheduled to start shooting in February, at Brooklyn's new Steiner Studios. It also stars Will Ferrell, Roger Bart, and Gary Beach.
Photograph: Getty Images