Can't get enough of television? Grab your weekly gossip from the industry right here.
Going Global
With Indian industry going global, was the entertainment industry going to be left behind? No way.
BAG Films [ Get Quote ], producers of the serial Kumkum, has started producing shows for overseas markets, with its first international show due to be telecast early next year on the renowned channel Ary Digital.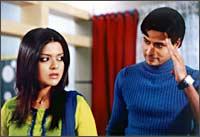 The show, called Yeh Vaada [ Images ] Raha, will be telecast in Pakistan , UAE, the United States and UK. Perhaps predictably, Yeh Vaada Raha is the story of two lovers Sadia and Salman, and the turmoil in their life caused by the mutual hatred of their respective families.
The multinational star cast includes Pakistani actress Maria Wasti (Sadia), Raj Verma (Salman), Pankaj Dheer and Shahbaz Khan.
Work-life balance?
With shooting schedules taking up 16-18 hours of an actor's day, relationships are under pressure as never before. The savvy ones, though, have figured a way out -- marry your colleague, so you get to spend those 18 working hours together.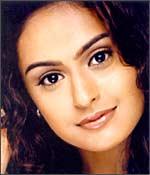 Hiten Tejwani and Gauri Pradhan [ Images ], of Nach Baliye [ Images ] fame, are shining examples. But then, such proximity can bring its own problems, even funny ones. Take for instance Manoj Bohra and Tina Parakh, better known as Prem and Mukti in Kasauti Zindagi Kay.
The two will be seen in a new Star One show, Ek Se Badhkar Ek. Launched as a countdown show with a difference, it features the real life pair as a temperamentally opposed couple, constantly fighting with each other and trying to outdo one another. Like, there aren't enough problems within a marriage without having to simulate more on screen, too?
The countdown show, meanwhile, includes categories ranging from 'Top 10 Action Heroes', 'Top 10 Love Triangles' to 'Top 10 Sizzling Singles', amongst others.
Supernatural Soman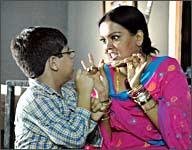 Television's first hunk, Milind Soman [ Images ], now turns producer with a new entertainer, Ghost Bana Dost.
To be telecast on Star One, the story revolves around a rich orphan kid, Dabboo (Adil Baadshah), living with his uncle Vichittaraka (Manoj Joshi) and aunty Tejoji (Sushmita Mukherjee). The uncle-aunt combo ill-treat Dabboo and are interested only in his money.
Dabboo's savior is Nikhil Kedarnath (Manish Paul) -- a friendly ghost who helps him in times of need. Old wine, old bottle, but Soman must be hoping the serial gives him the foothold he has been seeking, into the production side of the business, for quite a while now.
Good times for bad boys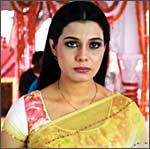 It seems to be the season for the return of villains to the small screen. If you thought the return of Raj in Kyun Ki Saas Bhi Kabhi Bahu Thi was not enough, here's one more  -- Aparna in Kasauti Zindagi Kay.
Though she was dead and buried long back, Balaji scriptwriters have brought her back, never mind that it takes reincarnation to a whole new plane. Gitanjali Tikekar plays the role; for now, no one is telling us what the script holds in store for her, and for Tulsi Virani and the Basu and Bajaj [ Images ] families, who will be impacted by her machinations.
Enter, left, Kitu Gidwani
Here's some good news for fans of Kitu Gidwani. Starting Christmas Day, she will be back on the small screen in a new serial, Kulvaddhu. The love story of a girl who selflessly enters into a relationship to protect the family of the man she loved and cared for since her childhood, the serial is set against the backdrop of Rajasthan [ Images ].
Produced by Maverick Productions (first venture of actor turned producer Dr. Anuj Saxena, better known as Abhay in Kkusum), the serial will be telecast Monday through Thursday, at 8.30 pm, on Sony and stars Suhasini Mulay, Milind Gulanji, Sushmita Mukherjee and newcomer Daljit Kaur and Imran Khan [ Images ]. Besides Gidwani, of course.