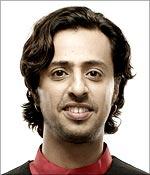 Salim Merchant, one half of musical brother duo Salim-Sulaiman, is one of three judges on this year's Indian Idol.
And, as we've all seen by now, the young lad had all the female participants flirting with him, especially during the auditions!
Patcy N speaks to Salim about Indian Idol, his brother Sulaiman and his growing legion of female fans. Excerpts: 
What kind of turn out did you get for this year's Indian Idol auditions?
I am a new judge, so I shouldn't be saying this: But this year, better and more singers participated. I think the reason is that all three judges have a background in music. There's no X factor, like earlier with Farah Khan and Sonali Bendre.
I came to know this after talking to the participants during the auditions.
50,000 participants turned out in Delhi and 25,000 people in Kolkatta. In fact, we had to postpone an audition once because of security concerns. There was a lathi charge in Delhi, too.
There is a blind girl on the show. Was it an emotional decision to feature her on Indian Idol?
Do you think so?
I am very passionate about this. I am a busy composer. I am doing lot of work in the film industry. But I am part of Indian Idol as a service to the music industry. As a composer, it is my job to bring talent to the forefront, not only for Bollywood but for the whole world.
Do you think reality shows have really helped the music industry?
Definitely.
Let me be very honest and straight forward: I recently recorded a song with Himani Kapoor (finalist of Sa Re Ga Ma Pa Challenge 2005). Sunidhi Chauhan came from Meri Awaaz Suno. Shreya Ghosal also came from Sa Re Ga Ma Pa.
It is unfortunate that we have not found more singers like them. But I have strong feeling that we'll find someone this time, on Indian Idol.
There are many contestants on the show who were already finalists in other reality show. Is this a problem?
Don't you think they deserve another chance? We have heard all the singers, and they are good. How can we not take them if they are good? If someone sings and steals our hearts, we can't refuse him or her just because he or she appeared somewhere else before.
In what way do you intend to help the contestants?
We will give each singer advice and guidance as to how they have to sing their song. But their elimination is not in our hands. They will be eliminated by the audience voting, so they have to win the hearts of their audience, not ours.
Do you think there is regional voting in reality shows?
I don't believe a south Indian contestant only gets votes from the south. What if the contestant is Rajasthani and he resides in Mumbai? He will get votes from both places.
How is your rapport with Anu Malik? Have you guys fought yet?
I have worked with Anu Malik before, and I have worked with Sunidhi, too. When I gave music for Rab Ne Bana Di Jodi, Anu Malik called me first and told me that he loved my song Tujh main rab dikhta hai. He said it gave him goose bumps.
So we have good chemistry, friendship and bhaichara for each other. I am much younger than him, but he respects me a lot. After Indian Idol shoots, we sit and eat food together, have fun and talk about different things.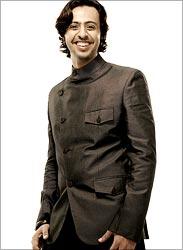 Who do you see in the top five?
 
It is unfair, but I will tell you who I feel are the best: Yashraj Kapil, Arpita Khan, Shashi Suman, Manisha Karmakar, Bhoomi Trivedi, Vishwas Rai and Swaroop Khan.
Any message for the contestants?
I feel bad for the singers who lose. So I want to tell them zindagi ki yehi reet hai, haar ke baad he jeet hai. They have achieved a lot by coming in the top 17, and now people are going to watch them. They should not be disappointed if they are eliminated. They are just in their early 20's
Before coming on this competition were you aware of your female fan following?
No, I was not aware. I work in a studio. So, for the whole day, I'm in a closed room, composing music. I barely go out. But now that people are watching me, they know me, which is great.
Why is Sulaiman not on the show with you? 
It would have looked odd if we brothers would have been on the same show with another female judge or singer. Plus, our judgments would have been same since we are brothers and we are partners. Suleiman will be seen in two episodes on the show as a mentor and we will both rock.
You have also started singing. Are you trying to find your individual identity?
No way. My brother is my idol. He is my elder brother. I have learned everything from him. I compose and Sulemain arranges rhythm.
My singing happened because, when we compose and arrange a song, one of us has to sing the vocals as a trial. So when I sang, the director liked it and made me sing. In fact Sulaiman keeps encouraging me to sing.
Which is your forthcoming film?
It's a Yash Raj film, directed by Manish Sharma and featuring Anushka Sharma. It's as of yet untitled.