Nadira, the graceful vamp of yesteryears, passed away early on Thursday morning.
A fiercely independent woman, she lived alone in her last years and was undergoing treatment at Mumbai's Bhatia Hospital. Her funeral was held in Chandanwadi, in south Mumbai on Thursday.
"When I learnt about her death, I went for her funeral. As expected, there were hardly any people," said Mahesh Bhatt, who directed Nadira in the 1997 movie Tamanna. In the film, Nadira plays an ageing actress who pines for her lost glory.
Nadira: Bollywood's first glam girl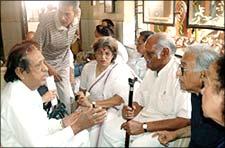 "When she was shooting for my film, she was very temperamental, and emotionally unpredictable. She had her highs and lows. She was very naughty, amusing and articulate. She lived her life on her own terms. It was a great experience to work with her," Bhatt continues.
"I once requested her to get a picture of her youth for the shoot. She did, and what a marvellous beauty it was
"As I was returning from the funeral, the image of Raj Kapoor and Nadira in the Mud mud ke na dekh (from Shree 420) song came to my mind for some reason. Nadira was the diva of the early 1950s and 1960s. And like any part of the world when the arc lights dim, when the fame fades, people forget the ones who entertained them on stage. Nadira was no exception," Bhatt adds.
"She was alone in life but never lonely. I wish her the peace in death that she always sought in life," said Nadira's close friend, actor Tom Alter.
Former Board of Control for Cricket in India chairman P M Rungta, who had admitted the actress to the hospital, said, "I had known her for a very long time. She was a very brilliant, intelligent and graceful woman. May her soul rest in peace."
Nadira's neighbour Sunita Chopra said, "Just a day before she was admitted, we had a talk and she seemed quite normal. I was very close to her. She was like a mother and friend -- well versed, well read, very intelligent person. It is a great loss."
Photograph: Arun Patil