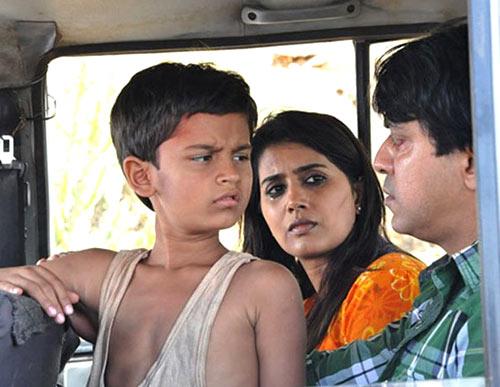 Siddharth, the riveting drama of a father searching for his missing 12-year-old son in Delhi, won the Grand Jury Prize at the 10th South Asian International Film Festival.

The film, which competed with other contenders like The Good Road, also won the best director award for Toronto-based filmmaker Richie Mehta.

"This intense, boundary-pushing art is representative of why we started this festival in the first place," said Shilen Amin, founder, South Asian International Film Festival. "It stirs you and yet it is a very classic film, without the standard gimmicks."

Mehta began thinking of the story over three years ago, when he met a man on the streets of Delhi, who asked him for help in finding a place called Dongri.

'I asked him what it was, he told me he thought it was where his lost son was,' Mehta writes in the production notes for the film.

The stranger told him that he had sent his 12-year-old boy away to work, and never saw him again. He believed his son was kidnapped and trafficked. 'After the initial shock wore off, I asked him for more details -- a photograph, the spelling of his son's name,' Mehta writes. 'He couldn't answer any of them (being illiterate, and having never taken a photograph). Since he was obliged to work every day to support his wife and daughter, all he could do was ask others for help. And he'd been doing this for over a year.' Knowing that this man didn't have the ability, or the means, to even properly inquire about his son is an unfathomable tragedy, Mehta decided to help him.

'This film is my attempt to reconcile my extremely layered relationship with this circumstance,' he said. 'It's a story made up in equal parts by tragedy and optimism, and I hope what we've done here transmits even a fraction of the confusion, sorrow, helplessness, and ultimately, hope that I felt
in meeting this man.'
SAIFF's Jury Prize went to I.D, a film by debutant director Kamal K M.
The Hindi-language film tells the story of Charu and her friends who share a rented apartment in a sky-rise in Mumbai. They are in their mid-twenties, and each comes from a different part of the country.
One day a labourer comes to paint a wall at their house. Irritated that her flat mate did not inform her, Charu asks the man to hurry up. But soon she finds him unconscious on the floor.
Charu, panics and desperate to do what's right, gets entwined in a series of incidents that take her through the city.
Kamal said in a statement that he had heard a friend narrate an experience she had when a laborer working at her house collapsed in the midst of his work.
'I started writing it and left one part of the story unwritten. I believed the process would reveal that to us,' he added. 'We started shooting the film in real locations. The city spoke to us, through her myriad migrant people who had come here from various parts of the country in search of a better life.'
The Short Grand Jury Prize was awarded to Shubhashish Bhutiani's
Kush
, which centers on the 1984 assassination of then Indian prime minister Indira Gandhi and the anti-Sikh violence that followed in Delhi.
Rajat Kapoor received the Audience Award in the feature category for
Ankhon Dekhi,
the story of a man in his late fifties, and how a random incident changes his life in a dramatic way, though he does not realise it.
Shiva Bajpai won the Audience Award in the shorts category for
Outpost.
Set along the India-Pakistan border, the film depicts the story of two enemy guards, who yearn for human contact but remain separated by an immaterial border.
"Our 2013 competition winners exemplify the innovative storytelling that's currently coming out of South Asia," said programme director Galen Rosenthal. "They truly are proof that the independent film scene in South Asia is only growing stronger."