Ten years in the Hindi film industry and Suzie Q is still vying for the long standing due that she truly deserves. Her body of work is as intriguing as her name. A playback singer, Suzie started off as a background vocalist and has also penned a few lyrics.
The striking voice behind chartbusters like Signal (Bhagam Bhag), Paisa Paisa (Apna Sapna Money Money) and Mahiya (Awarapan), Suzie has also contributed to the catchy soundtrack of David Dhawan's Partner.
Swati R Chaudhary catches the 20-something at her candid best.
Is Suzie Q your real name? What does 'Q' stand for?
My real name is Suzanne D'Mello. It's only now that I have adopted such a commercial name. Suzanne is a very English name. It doesn't always register. That explains Suzie Q, which also arouses curiosity.
I want people to ask who Suzie Q is (grins). Q is quintessentially Suzanne, Q is quite extraordinary. I wanted the name to stick in the head.  
Are you more of a background vocalist?
I do everything from playback singing to vocal arrangements. I write lyrics and compose as well. The stuff that I do usually becomes the hook line of many songs, be it a remix or even if I am backing someone else. I started out as a background vocalist but of late, I'm getting into playback. My style of singing is essentially western, R&B, soul and a lot of pop as well.
Tell us about the work you've done.
I have worked with music directors like Pritam, Sajid-Wajid, Harry Anand, Jatin-Lalit and Salim-Suleman. Pritam always believed in me; he was the one who gave me my first break as a playback singer in Vivek Agnihotri's Chocolate where I sang a duet (Khalish Si) with Kunal Ganjawala.
Later, I did Jhoom (Ek Khiladi Ek Haseena) and it gradually took off from there. A few others include Shake It (Naksha), Signal (Bhagam Bhag) and Pyaar Ke Side Effects.
I've also done Paisa Paisa (Apna Sapna Money Money), which is more of a Hinglish number. I have penned most of the lead vocals and lyrics for certain sections.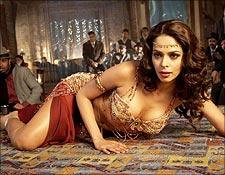 How did it all begin?
I have been in the industry for almost 10 years and worked on projects like Kuch Kuch Hota Hai and Kabhi Khushi Kabhie Gham.
Music just happened. When I was in college, a lot of people asked me to join their band and I decided to give it a shot. It was only after a few years that I seriously started thinking about it. Some guys from the music industry heard me at a college competition and introduced me to the industry.
I've also done ad jingles, the most recent being Inizio's Essenza Di Wills and Reliance and BSNL.
Incidentally, I got a lot of publicity through (remix guru) Harry Anand. He pushed me to the greatest extent. I've done vocal arrangements and written English lyrics for some of his remix songs like Kaliyon ka Chaman, Kaanta Laga, Chadti Jawani and Saiyyan Dil Mein Aana Re.
You have also teamed up with A R Rahman.
Yes. I have done the backing vocals for Mayya Mayya (Guru).
I remember after we recorded for Guru, his manager called and asked if I could make it to Delhi. Mr Rahman was there to unveil the new signature tune for Worldspace Radio as a brand ambassador. He wanted to put up a little performance for the tune he had composed. So I was required to sing this tune along with other musicians. I was flabbergasted since there were so many singers but he chose to work with me. It was quite an honour.
I guess no one is even remotely close to A R Rahman because his ideas of sound production are so international. We've had international artistes singing praises of him. He brings out the best in a singer. If he likes you, he will do everything in his capacity to push you to the brink. 
 
You have been credited for Partner.
Yes. Sajid-Wajid approached me for the film. They played the title track for me and asked me to layer their voices, design a particular music section and a few hook lines. So the portion in the title track, Do you want a partner -- Let me let me say -- is sung by me. A few backing vocals were done by me too. I have also written a few lyrics for the latter half of the song.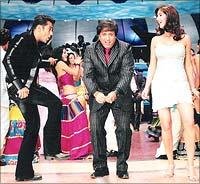 What kind of a rapport do you share with Sajid-Wajid?
I've worked with Sajid-Wajid for a long time. I am an integral part of their team and I've worked in most of their projects. They are very fond of me. I knew there was no way they would have gone ahead with someone else for Partner. 
Their compositions are awesome. They strike a fine balance between the western and Indian elements.
A grueling 10 years in the industry. Do you think you're yet to get your due as an artiste?
People have been appreciative of me but it all boils down to being popular. As far as audience is concerned, people don't really know about me. I want people to know that I am the face behind Paisa Paisa (Apna Sapna Money Money).
Likewise, the original song Mahiya (Awarapan) is sung by me. Annie (Pakistani singer) composed it; she's a powerhouse of talent. Mohit Suri (director, Awarapan) and the others loved the catchy melody she came up with but they wanted to keep the options open. Later, they got her to stay on the whole movie album and the remix. I have been credited but she has been given the publicity.
I'm thrilled that people are calling me at odd hours and appreciating my work (in Mahiya) but they still don't know what I look like, which, in my opinion, is very important for an artiste.
So did you start from scratch? How tough was that?
It was pretty tough and I'm still battling through a tough period. But I have decided to put my foot down. People don't give me the respect I deserve. I want to do things my way now.
What are your upcoming projects?
Sajid (of Sajid-Wajid fame) has spoken to me about an album but nothing is concrete yet. Presently, I'm working on my own tunes and concentrating on my advertising career. I have started my own band called License to Funk with Suzie Q. I am also putting down tunes with music director and friend Sameeruddin.
I have also done the background vocals for Yash Raj's Chak De India starring Shah Rukh Khan.