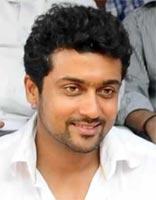 Suriya has been winning the hearts of his Tamil fans through his commitment to society.

After Rajnikanth [ Images ] expressed his support for Anna Hazare, Suriya joined the solidarity meet organised by the South Indian Film Chamber of Commerce Association to show their support for Anna Hazare's fight against corruption.

"No one can question the credibility of people like Anna Hazare and Kiran Bedi [ Images ]. The situation in the country is such that I feel Anna Hazare has started his campaign against corruption at the right time. It is our duty to keep the momentum going so that our children will see a cleaner India [ Images ]," Suriya said at the venue.

The other Tamil film personalities who joined the meet were A R Murugadoss [ Images ], Cheran, Parthipan, and Thankar Bachan.