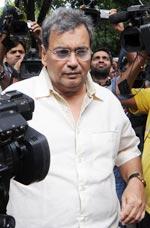 Subhash Ghai was one of the many filmi folk who deeply mourned the loss of legendary actor Shammi Kapoor, who passed away in the early hours of Sunday.

Ghai had directed Kapoor in the 1982 hit Vidhaata, and was all set to releasing a documentary of the actor at his acting institute, Whistling Woods.

"It is so sad that Shammiji couldn't see the documentary that Suresh Sharma has made on his life," Ghai said. "We were going to hold a grand event for the documentary on August 6. We had to postpone it because of Shammiji's frail health. I never thought he'd leave us so suddenly. It's a personal loss for me.

"He was man of great love and affection with a tremendous passion for life. To me, Shammiji is a symbol of youth. Even at 79, he was so young in spirit thought and action. He was constantly on the computer. He was one of the most net savvy people I know. There was always a conversation on movies music and internet at his home between him and me. I will miss those. I will miss this giant figure."
In the picture: Subhash Ghai pays his respects to the late Shammi Kapoor at the latter's home on Sunday. Photograph: Pradeep Bandekar