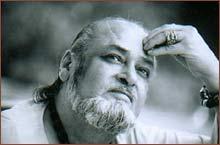 Till the end, Shammi Kapoor was happily young at heart.

He engaged with young actors, spoke to them with patience and not only gave out tips and advice but also enjoyed listening to what they had to say. 

No wonder, despite being wheelchair-bound, the Junglee star made his last appearance with his grand nephew, Ranbir Kapoor, in Imtiaz Ali's forthcoming film Rockstar. This is the first time the two Kapoors have faced the screen together.

"He hasn't lost his zest for life. I can't express what a big dream it was for me to work with him," gushed Ranbir.

It is believed it was Imtiaz who convinced and persistently chased Shammi whose frail health didn't permit him to take up shoots. But when the 79-year-old superstar did sign the film, he didn't hesitate to fly down to Delhi and shoot some scenes. 
Although Shammi had put up 'retired actor' in his description on his twitter page, it didn't deter filmmakers from approaching him. Active on twitter, considering his passion for the internet, Shammi had tweeted before signing Rockstar, 'nervous and excited about the role.'
In a particular scene in Rockstar, Shammi will be seen playing the shehnai while Ranbir will work his magic on guitar. "As a child, Ranbir would sit on my lap and sing classical music to me. He wasn't trained in that but did it just to bug me," Shammi reportedly told a news channel once.
It's not only with Ranbir that Shammi got along famously with. "He made friends with youngsters quickly," said Sharmila Tagore, who debuted with the heartthrob in Shakti Samanta's Kashmir Ki Kali in 1964. "I think because he felt young, he was always happy and the fact that he could have a conversation with youngsters that drew them towards him," she added.
It's true that Shammi always toasted young talent. When Imran Khan approached Shammi to tell him more about his own grandfather, Nasir Hussain, he called the young actor over and recorded an entire video full of anecdotes about Nasir. Shammi had even blessed Imran's film, Jaane Tu... Ya Jaane Na and is more like a guardian to Aamir Khan.
Shammi's passion with internet was another reason why the youngsters could easily bond with him. He could rattle off the pros and cons of new technology and gadgets, a topic on which he could spend hours talking. He first got addicted to the internet in its early years in India. He formed Internet Users Club Of India (IUCI) in 1995 to create awareness and solve internet-related problems.
Shammi's death, in a sense, deprives the young actor of a genial guardian. To his fans, however, the loss is immeasurable.