Dasavathaaram, the magnum opus from Kamal Haasan is not an ordinary enterprise. For unlike other films, 95 per cent of this Tamil venture needed special visual effects. And the man in charge of the stunning special effects is Hollywood specialist Brian Jennings.
The Oscar-nominated visual effects supervisor [along with Bill Kroyer for Technological Threat, a short animated film in 1989] has 35 films to his credit, including Exorcist [2004], Scary Movie, Father of the Bride II, Vampires in Brooklyn and Harsh Times. The latest, of course is Dasavathaaram.
From his sea-facing modest flat, Brian talks about how he got involved in Dasavathaaram and his experience with Kamal Haasan. Excerpts:
Also Read: Showcasing Dasavathaaram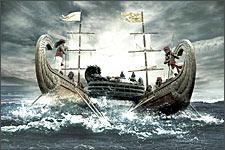 How did you get to work in Dasavathaaram?
I knew Gautham (Menon) when he was working for Vettayadu... [Vilayadu]. That was how I met Kamal Haasan. I was in India as a tourist and I dropped on the sets of Dasavathaaram in Chennai.
I found that they had big ideas for visual effects but very little planning. So, I decided to help them out that day. I had no plans to take up the job then as I had no relationship with anyone on the sets; neither the director nor the star. But then I found that they were unprepared for such a big film.
It so happened that soon I became their visual effects supervisor, coordinating with ten different companies in Chennai. It was a big effort because there were 2000 shots that needed visual effects, and the end result, I would say is mindboggling.
You said they were unprepared. Was it difficult for you in the beginning?
I would say it was difficult but was not impossible. I only wish I had more time. That was the only problem I faced because the studios were slower. The talent is the same but they are not experienced enough to do such effects. So, it all depends on how you use the talent. Most of the visual effects of Dasavathaaram is done by the Indian crew in ten Chennai studios.
You said 95 per cent of the film needed computer graphics. How do you compare the final product with any of the Hollywood films?
The final product is very good and comparable to any Hollywood film. Plus we achieved all of this at a lower cost. I would say we did a very good job. About 85 per cent of the visual effects done here would get the same results in the US. The other trickier stuff was harder.
Which was the most satisfying part of Dasavatharaam?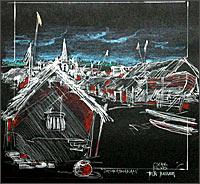 The movie is based on the premise that every shot needed to have visual effects. I will give you an example. You have four avatars of Kamal who have to be there on the same shot but they cannot be there on the same day, so, we shoot one avatar one day and another a week later. We shoot the same shot with a different Kamal another day. We have to remember each and every thing about the same set when we shoot the second Kamal on the same set later. It is not one or two Kamals but four Kamals on the same scene but we shoot each one of them on different days. So, we have four different Kamals, four different costumes, four different days but the same scene!
What was the most challenging part of Dasavathaaram?
The tsunami, which is an integral part of the film. It happens in two locations; one is the fishing village and the other is a lovely home along the seaside.
We needed two different types of action. The luxurious home on the East Coast Road before the devastation and afterwards. We had to recreate all that.
We had to recreate the computer generated waves with people in the water. The effect of water on the people, vehicles and huts is all different. Creating waves on computer was the most difficult part of my work.
Thota Tharrani, the art director gave us the sketches of the effects of tsunami...
So, you know how it was. We were working together. He created the sets and I destroyed them! [laughs]
It was very difficult creating and shooting those scenes but we did it very realistically. Very large waves were computer generated. The challenge was to get the quality with the resources I was given. The end result was as good as any Hollywood film. I don't think the budget affected my work but I was short of time.
Like I said 95 per cent of the film has computer graphics.
How do you describe Kamal Haasan as an actor?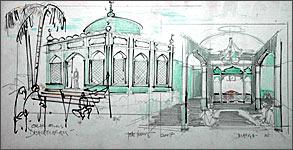 The first thing I would say is he is a pleasant person to work with; very friendly, open and very kind.
He knows almost everything about filmmaking. He had also written the script. So, he knew how painful it was going to be for him.
He had to go to the makeup chair almost every day for almost two years. He needed five hours to put it on and two hours to take it off. So, he needed seven hours just to get ready to shoot!
Watching him overcome the challenge inspired us to give our very best. He knew he was taking on a difficult project but he is a perfectionist. Nothing less than 100 per cent for him. That is the kind of person I would like to work with. I also feel the same way about my work. This is my work, and my life.
He is also very well versed with the technical side of visual effects. He wanted someone with 30 years of experience in films to handle the effects and there was no one in India with that kind of experience.
How many films have you done?
I have done 35 films! More than what he wanted!
Were you bowled over by any part of the film?
Yes, the tsunami sequences which involved very big sets and lots of people. One day's of shoot needed 10 or 15 days of preparation.
Dasavathaaram is made in an Indian language. Do you think it will be noticed internationally?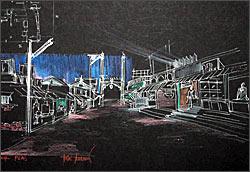 Absolutely. The quality of the film, its story, the acting and the fun parts make the film noteworthy. K.S. Ravikumar has added a lot of fun in the film. The results are very much the same as any Hollywood film. India uses the same cameras and computers. The only thing lacking is experience which people like me can bring in. Dasavathaaram is a film which had an all Indian crew.
Would you be doing any other Indian film?
I am doing a television serial for Bobby Bedi called Mahabharata. I have already started working on it.
What do you like about Dasavathaaram or Mahabharata as they may not be as remunerative as a Hollywood film?
I like the people I work with. I enjoy working in Tamil films. It is a more intimate industry here. For me, it is much nicer. After working in 35 Hollywood films, it is not money that attracts me now. Finance doesn't mean anything to me after so many years of working.
I want to train the youngsters here and see whether Chennai can become the visual effects centre of the world!
Photograph of Brian Jennings: Sreeram Selvaraj