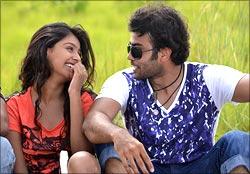 Telugu film Vennela 1.5 is lewd and it's best to stay away from it, writes Radhika Rajamani

Devakatta made
Vennela
a few years ago, which marked his debut and also fetched him some acclaim. Seven years later, Kishore, one of the actors in the film who has come to be known as Vennela Kishore, decided to direct a sequel,
Vennela 1.5
.
The film is an embarrassment for Kishore.
Vennela1.5
is one of those films that make you wonder why you bothered to visit the theatre.
It has really got nothing to hold your attention, the double-entendres fall flat, and it's a badly crafted (written and directed) film.
The director seems to just want to have
some vulgar fun at the expense of the audience. He even seems confused about who his audience is (though the film has been given an A-certificate). 
The story is an old one seen umpteen times before. Khader (Kishore) has to spend six months in Thailand. He arrives there with his friend and meets different characters.
One of the characters, Vennela is engaged to be married to Shravan but Krishna Krishna steps in and breaks the engagement. Vennela falls for him but, as usual, there's a twist. 
Other characters crowd the film -- quite unnecessarily -- to inject a comedy angle like Pampachak (Brahmanandam), Master Bharat, Raghu Babu and several Thai girls.
The route the film takes is pretty repulsive to watch with its lewd scenes and dialogues.
Stay away from this crass and unpleasant film. It's sheer torture.
No Rating