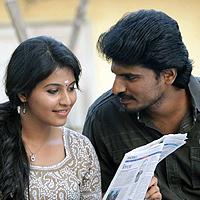 S Saraswathi says Vathikuchi is an interesting concept that grabs our attention at the beginning but fails to keep up the momentum.
After the huge success of Engeyum Eppothum, Fox Star Studios and A R Murugadoss Productions come together once again to produce Vathikuchi, a film written and directed by Kinslin, a protégé of A R Murugadoss.
The film introduces Murugadoss's brother Deliban in the lead role, along with Anjali of Angaadi Theru fame, supported by Saranya Ponvannan, Sampath Raj, Jayaprakash, Jagan and Raja.
Music is scored by M Ghibran and the cinematographer is R B Gurudev.
Vathikuchi is a romantic action thriller that revolves around an ordinary auto driver who gets caught up in a difficult situation, but manages to extricate himself using his practical knowledge and logical thinking.
There is suspense in the opening shots of the film with the hero Shakti (Deliban) being hunted by several men who want him dead for different reasons.
The story is set in the outskirts of Chennai, where Shakti, an auto driver, is in love with Meena (Anjali) who travels in his auto every day.
Though Shakti and Meena belong to the same neighbourhood and share a similar background, Meena attends spoken English classes, dresses stylishly, calls herself 'Leena' and wants to change her lifestyle and get out of her middle class background.
So, in spite of both families giving the match the green signal, Meena is reluctant to accept Shakti's love.
Meanwhile, Shakti gets caught up in some bizarre incidents that make him a lot of enemies. Among these are Jagan and his friends who play insurance agents, Sampath who is the local rowdy for hire, and a crooked jeweller, Jayaprakash, and his son. As the story progresses, we learn about the reasons for their wanting Shakti dead.
Anjali and her friends provide the comic element in the film. They depict typical young middle-class girls, who wear modern clothes, dark glasses, make-up, talk broken English and use phrases like 'Have a nice day' and 'Pleased to meet you' in every conversation.
Saranya Ponvannan, who is a natural choice to play the role of a chatty, loving and understanding mother, plays the role of Shakti's mom to perfection.
Anjali, who won awards for her performances in Angaadi Theru and Engaeyum Eppothum, seems to have lost some of the spark of her earlier films. She is not quite convincing in her role and has definitely let down her fans by her lacklustre performance.
Though Deliban's rugged looks and good physique are definitely a big plus for the movie, it is obvious that this is his first attempt at acting. He is unable to capitalise on a role that gives him wide scope to prove his acting skills.
Music director Ghibran, who shot to fame with his debut film Vaagai Sooda Vaa, composes the music for Vathikuchi. The song Amma Wake Me Up is quite lively and has been picturised well. But overall the music does not make much of an impression.
Although the storyline for Vathikuchi is quite interesting and grabs our attention right at the beginning, the film is able to keep up neither the momentum nor the intrigue. As the story unravels, there is a feeling of being let down.
Rediff Rating: