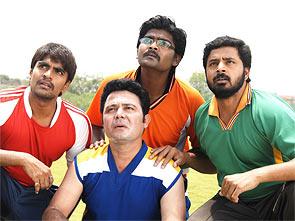 Radhika Rajamani says Pustakamlo Konni Pageelu Missing should be viewed for its innovative theme, engrossing screenplay, and good humour.

Telugu film Pustakamlo Konni Pageelu Missing is a remake of the successful Tamil film Naduvula Konjam Pakkatha Kaanom, which had Vijay Sethupathy in the lead.

Directed by Sajid Qureshi with the screenplay also by him, Pustakamlo... is unlike the formula films one sees in Telugu barring the unnecessary item number in the second half.

Quite innovative in its concept, the film has a slender premise yet keeps one engrossed thanks to the screenplay (which has been adapted a bit for this Telugu version) and the acting. It has no stars yet it is interesting to watch even if it a tad too long.

Vijaykumar (Sri), Salim, Siva and Balaji are friends. When they meet the day before Vijay's wedding reception, they decide to play a cricket match. During the game, Vijay misses a catch, trips over a stone and falls. He starts acting funny and uttering the lines yemaindi, oh nuvve kada kottindi.....over and over again. He suffers a temporary loss of memory.

Vijay's three friends try to hide this fact from his family and Sandhya, his bride.

This wafer thin storyline is built up in an interesting fashion. Qureshi had Tharanitaran's well-made film before him for reference and there is enough humour and entertainment.

The second half has some tension filled drama. Though the film makes one laugh, there are illogical scenes and at times it's quite mindless. The stock lines Yemaindi... is like a leitmotif running through the film. Initially it's quite entertaining but after a while it just becomes repetitive.

Sri (who acted in Eerojullo) plays Vijaykumar well. But, like the lines he has to repeat, the expressions are also stock ones. That's the limitation of his role.


The three guys who play his friends do a good job. The girl Supraja did not have much to do. Raghu Babu plays the doctor in his characteristic style.

Gunvanth's background score enhanced the story. Martin Joe's camera work is fine.

Pustakamlo'sUSP is its new and different theme. Both Tharanitharan and Sajid Qureishi should be given credit for that.

Rediff Rating: