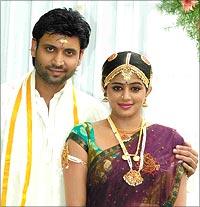 Radhika Rajamani reviews Raaj.
Post YOUR reviews here!
Love triangles have been done to death in Telugu cinema.
Raaj
, directed by V N Aditya, is yet another love triangle that makes no impact.
It tests the viewer's patience with a clichéd storyline, the formulaic staples of songs, fights and romance, and a good deal of skin show courtesy Priyamani.
Raaj (Sumanth), a fashion photographer, runs into Priya (Vimala Raman) in Goa and falls in love with her. But she disappears
mysteriously. He returns to Hyderabad, his father forces him to marry his friend's daughter, Mythili (Priyamani). One day he sees Priya in a hotel. After that, he is sandwiched between Priya and Mythili. Added to the mix is James (Ajay), a villain who has nothing much to do.
It's disappointing to see Sumanth as Raaj after a superb performance in Golconda High School. He doesn't seem comfortable. Priyamani carries off her role well, despite the skin show. Vimala is okay. Ali's presence does not make much of a difference.
Barring the good cinematography, Aditya has churned out an insipid film.
Rediff Rating: