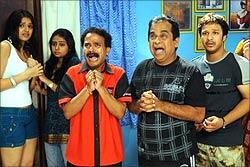 Radhika Rajamani feels Money Money More Money has juvenile humour and is not worth watching.
Post YOUR reviews here!
J D Chekravarthy (Chekri) directs the Telugu version of his Hindi film
Darwaza Bandh Rakho
(2006), as
Money Money More Money.
This comic caper, the third in the
Money
series, with Brahmanandam in the lead role as Khan Dada, is hardly a sequel. There are just a few scenes with Brahmanandam and Chekri that establish the link with the earlier
Money
. This caper is pretty childish and immature with the humour falling flat and the actors, including Brahmanandam, not able to rise above the weak script and portrayal of characters.
Four people, Abbas (Muku Dev), Chakri (J D Chekravarthy), Raghu (Brahmaji) and Goga (Kevin Dev) are in dire need of money and so decide to kidnap Maggie (Tara Alisha) and hold her hostage at Khan Dada (Brahmanandam's) house. Khan Dada had made a lot of money in the real estate boom but has lost it all.
As luck would have it, Maggie's father Jagdish (Nagababu) is in the US when the kidnappers call him. So they have no alternative but to hold the family of Khan Dada, their maid, and all those who ring the bell (salesgirl, money lender, maid's husband, pizza delivery boy) captive, along with Maggie!
Who gets the money in the end is what the film is about and the audience has to endure the mindless
tamasha
till then.
The situations and dialogues are pretty inane and stereotypical, and to a large extent, predictable. Thankfully, the film lasts only  for one hour and forty-five minutes. There are some situations that tickle the funny bone, but mostly the humour is juvenile. The whole film is set in one mansion and the sound of the door bell every few minutes is quite irksome. In fact, the special sound effects, which are supposed to enhance the feel of the scenes, are unwarranted.
Acting wise, the ensemble cast doesn't set the mansion on fire. Brahmanandam is not at his best. Though he was hilarious initially, after a point his humour and expressions became stale and stereotypical.
Though Chekri falters in the script department, he manages to act decently. Mukul Dev suits his role to a T, giving those menacing looks when necessary. Brahmaji was apt and Kevin was cute with his roly-poly face.
Newcomer Tara Alisha needs to improve her expressions. Venu Madhav, as the pizza delivery boy, did well in a limited role. Tamil comedian Senthil makes an appearance but looks out of place.
It's better not to spend your money on this
Money Money More Money
.
Rediff Rating
: