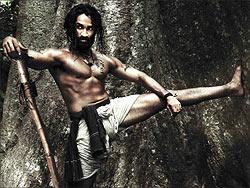 Pavithra Srinivasan feels Aravaan and painstakingly documents the period's history and is a must-watch film.
One of the biggest stumbling-blocks that any period film faces is getting the feel of the period right, whatever century it takes place in. That's especially true of a film like Amma Creations' and Vendhar Movies'
Aravaan
, which comes with huge expectations as the latest venture from G Vasanthabalan, who delivered
Veyyil
and
Angadi Theru
to much acclaim.
And in this instance,
Aravaan
, which is based on a story from this year's Sahitya Academy Award winning novel
Kaaval Kottam
, hits its mark perfectly.
This is not the usual commercial fare, although it does come with the regulation songs and fight sequences. There's precious little of masala in
Aravaan
, which is, if the phrase can be used, a labour of love that brings 18th century southern Tamil Nadu to life. Its pacing is slow, and it doesn't end the way most mainstream movies do. But this only makes it a much better film.
Even the way
Aravaan
begins is an ode to classy movie-making: the members of village Vembur, legendary thieves travelling in groups called
kothu
, run through the surrounding areas at night stealing valuables. The scene is beautifully choreographed.
The foremost of these groups is undoubtedly Kombhoodi's (Pasupathy) party, which earns a good deal of the village's grain and meat in-take.
On one of their nocturnal visits, they come across a curious tale: someone else is stealing, claiming to be from their own village! Kombhoodi's party begins a search for this strangely talented thief, and the head himself runs him to earth: it's the maverick Varippuli (Aadhi) whose antics and obvious courage impress the older man.
They journey back to Vembur, and Varippuli happily becomes a part of Kombhoodi's thieving
kothu.
But on one of their sorties, something mysterious happens. Varippuli, who claims to have no relations and home, is suddenly discovered to have a past and an intriguing past it is.
For Varippuli once belonged to Chinnaveeranpatti and was known as Chinna. As to how exactly he turned into a thief --that's a story that involves everyone from the area's king, the Palaiyakkaarar, a dancing girl, an incense vendor, and the people of another village, Maathur. Betrayal murder, mystery, love and honour-- all these and more play their part.
There's no way of singling out any one member of the cast; everyone --Aadhi, Pasupathy, Dhanshika, Singampuli--has performed excellently. None of them could have been said to be acting, not even Bharath in his cameo--they have lived their parts.
Adapting the written word to the screen is no easy task; Vasanthabalan and Venkadesan (the writer) have collaborated and produced a screenplay and dialogues that showcase 18th century Tamil Nadu perfectly, dialects intact.
Aravaan
is the tale of one man who chose to live, much like his own counterpart from the Mahabharata, with honour, integrity and courage. Showing such qualities on screen without dwindling into melodramatic mush is difficult, and though the pace is slow, it's accomplished very creditably.
Vasanthabalan has never flinched from taking up difficult subjects and deserves to be applauded for doing so this time too, and without making any compromises.
Karthik's music is refreshing. Siddharth's camera-work is scintillating to say the least, especially during the night sequences, where he brings out the allure of forests, and the dry-as-dust landscapes equally well, not to mention the architecture of those days.
The art-work brings the time period to life. Praveen K L and Srikanth N B's editing is perfect in the opening sequences and could have been used to better effect in the last half hour. A pat on the back to the costumer as well, whose work fits the period to a T.
Aravaan
is a slice of life from 18th century Tamil Nadu, with its lifestyle, humour, sorrows, loves and losses documented in painstaking fashion. This is an ode to history that deserves every bit of attention it receives. As such, it's one of those movies that deserve to become a legend.
Rediff Rating: