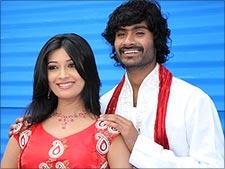 Srikanth Srinivasa feels Alemaari can be avoided.
Alemaari
is an experimental film and in the long drawn out first half, it looks like the experiment has failed.
Director Santhu has shown some flashes of brilliance with all the links and flashbacks perfectly blended. But, it could be difficult for the average cine-goer to understand what the director is trying to convey in this film about the underworld and youngsters aspiring to become gangsters.
Milkman Mohan (Yogish) falls in love with the college-going Neelee (Radhika Pandit) under quirky circumstances. Neelee, who comes from a traditional brahmin family, does not reciprocate his feelings initially, but she does finally. Her father, Sridhar Sastry (Ramesh Bhat), however, rejects the match. The girl has to choose between her father and her lover. She decides to dump Mohan.
Neelee marries a small-time businessman and Mohan is in a bad state and mistakes someone else for Neelee. Will Neelee and Mohan ever
get to meet each other? Will Mohan recognise Neelee?
Yogish has lived his role superbly. His mannerisms and the way he has carried the role is awesome.
Radhika Pandit is also superb. Despite her plain Jane looks in the movie, she has once again proved that she is a good actress. She has added her bit of zing to the role and made it immensely watchable.
Rakesh as the aspiring don has acted well with some plain talking in the gangster's dialect. Umashree is wasted.
Manjunath Nayaka's cinematography is superb and so are the stunts composed by Ravivarma. Arjun Janya's musical score is okay.
Director Santhu has missed an opportunity to give his audience a deeper understanding of the film. Although the film is watchable, it could have been handled better and the message of the wanderer be made clearer.
It is not really worth wandering into the theatre to watch this movie.
Rediff Rating: