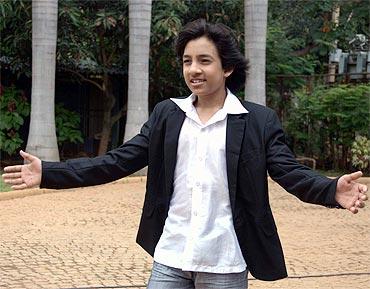 Master Kishan, who rose to fame after emerging as the youngest director with the Kannada film c/o Footpath, is now looking to establish himself as a "mass star."
The child actor will be playing the lead in 15, ee vayase onthara, a film around the lives of 15-year olds. This is Kishan's father, Srikanth's debut directorial.

"I couldn't think of a better concept to help Kishan break out of his child star image. He himself having turned 15, I wanted people to stop looking at him as a child. And since not many films have been made on the lives of 15-year-olds who are at a stage where they can neither be considered adults nor children, I thought the film would be well accepted," says Srikanth.

In Srikant's words, Kishan will emerge a mass star after this film and to give a boost to this image, three fights and eight songs, four of which are duets, have been included.

Tanvi, who played a younger Latika in Slumdog Millionaire plays Kishan's Goan classmate. Apart from her, there's Rushita, who has acted in the Pears soap advertisement and Hindi film Parineeta, and Shivani who has several advertisements and films like Dor and Blue and Orange to her credit.

"The good thing about this film is that most actors are 15 years of age. It's not like we have got 17-18 year olds dressed as 15-year-old school kids. We even had a talent hunt to select the actors. Srijini and Lakshman who play Kishan's siblings are among the good finds," says Srikanth.

Music director V Manohar and comedian Tabla Nani are a part of the supporting cast. "Manohar plays child psychiatrist Dr Manohar Mangaluru. His character comes with a comic touch," adds Srikanth.

The film is set in Bangalore and Goa. "Goan traditions, costumes, food and art will be shown like in a never before way. In fact not many films after CID 999 have portrayed Goa the way we plan to," says Srikanth. 

15 is a film on the impressions that 15-year-olds have on various things in life. "15 looks at the feelings one has at this age. Not only did I speak to several tenth standard children but also have incorporated several of Kishan's and my experiences as teenagers. The film will also speak of the reality shows that cater to youngsters," adds the director.
Asked him how difficult it is to parent a teenager and he says, "I share an open relationship with my son. Also I insist my children own up to their mistakes and small things like these have helped strengthen our relationships," he adds.
Speaking about his children, Srikanth adds that his 12-year-old daughter Kiran is also assisting him in the film. "I have a clap girl for my film," he jokes and adds, "Kiran wants to be an animator and even shows keen intent towards direction. So she accompanies me on the sets."
15 is due for a post cricket world cup release next year.