With his film Slumdog Millionaire shining among the top 10 films of the weekend on three continents, Anil Kapoor, who plays a complicated quiz show host in it, has set a record for an Indian actor. Not even Aishwarya Rai, who got miles of free publicity in the West thanks to her appearance on David Letterman show four years ago, can come anywhere near the success Kapoor has achieved. Her biggest success in North America, the 2004 romantic comedy Bride & Prejudice  grossed  $6.6 million in North America about half of what Slumdog has nabbed in its early run.
True, Sabu (The Thief of  Bagdad, 1940) and Persis Khambatta (Star Trek, 1979) were featured in bigger movies than Slumdog but by the time these films were made they had settled down in the West.
"True, Slumdog Millionaire is a British film and it is in English but I am very much part of the movie industry in India," Kapoor said. "I was not actively looking to act in a foreign film at all." The film has high Oscars hopes riding on it.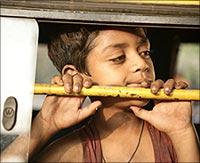 In Italy, where it is number nine on the box office chart, the film has grossed nearly $1. 2 million in 10 days. In Australia, where it is in its first week, it grossed nearly $300,000 in its first five days. It was at number seven on the charts.
In the United States, it jumped from the 11th to the eighth position, grossing $3.1 million over the weekend and taking its cume to $12. 1 million. The film was showing in 589 theatres. Trade analysts believe that the film could have neared $4 million but for a major winter storm paralyzing many large cities in the Midwest and Northeast for hours on  Friday.
"Anil Kapoor gave all of himself to the movie," said director Danny Boyle. "He has been around for more than three decades but his enthusiasm for this project was unbelievable."
Meanwhile, though Rab Ne Bana Di Jodi is a hit abroad, its second week showed that the film is not going to be a smash hit like Om Shanti Om.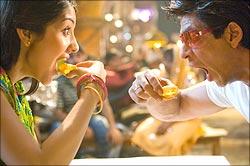 It plummeted by 64 percent in North America in its second weekend, grossing about $325,000. For the record, its first weekend gross in North America was $950,000,  about 20 percent less than the estimated gross. It grossed about $1.4 million in its first 10 days
The film held better In the United Kingdom.
Outside of India, where it reportedly grossed a strong $12 million in its first week, the Shah Rukh Khan starrer grabbed about $3.6 million in its first 10 days, including its North American and British grosses.