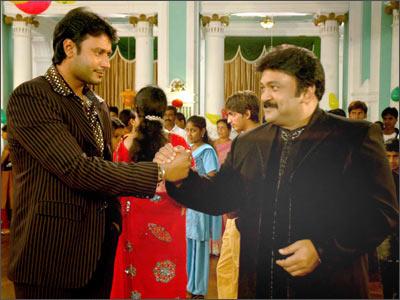 Legendary Tamil actor Sivaji Ganesan's son, Sivaji Prabhu, an actor of great standing, is acting in a Kannada film for the first time. 
Produced by Ramesh Yadav, the film titled Boss, is being directed by Raghuraj and also stars 'Challenging Star' Darshan and Navya Nair.
Darshan plays a double role in the film for the first time in his career while Prabhu plays the role of an investigative officer.
Ramesh Yadav, the producer of Boss said, "We wanted an artist who can be identified easily as an investigative officer and also a person who is well known to the Kannada film audience.
"This role is an important link in the story. We discussed many names but finally decided on Sivaji Prabhu. He was busy with his Tamil films, and also his daughter's wedding. However when we discussed the role, he was more than willing to do it. As you know, he is acting in a Mani Ratnam film after a long gap. He just completed the shooting of Mani's film in Kolkata and came straight to our sets."
Prabhu's family is very close to Raj Kumar's family from his father's days. The great camaraderie that existed between Sivaji Ganesan and Dr Raj Kumar is well known.
As for Prabhu, he is happy about his role in Boss. 'My father had acted in two Kannada films [School Master and Makkala Rajya -- both directed by B R Panthulu], so I'm just following in his footsteps. I'm happy to be acting in a significant role in the film," he added.
Text: R G Vijayasarathy