Shweta Tiwari made a mark on television as an actress. But it was her strained relationship with her estranged husband and Bigg Boss 2 finalist, Raja Chaudhary that really made her a household name.
After Kasuati Zindagi Kay, Shweta dabbled in reality shows as a judge and a participant. She even ventured into production. Currently she is doing a dance reality show Jalwa 4 2 ka 1 on 9X and another television show Jaane Kya Baat Hui on Colors.
In Jaane Kya Baat Hui, Shweta plays Aradhana, a woman caught in a loveless marriage with Shailendra Sareen (Sanjit Bedi). The daily grind of marriage undergoes a change when a mysterious stranger enters Aradhana's life. Over to Shweta:
Tell us more about your character in Jaane Kya Baat Hui...
I play a housewife whose family means the world to her. However, her peace is shattered when she discovers that her hubby is cheating on her. Her husband's infidelity forces her to discover her own identity. So the show depicts the journey of Aradhana through all the ups and downs of life.

What made you take up this role?
I didn't sign up for any other soap because every other female lead I was offered had a jhalak of Prerna (her character in Kasuati Zindagi Kii). The only reason I took up this show is because Aradhana is very different from Prerna. Aradhana is very realistic and I think most of the women will be able to relate to her.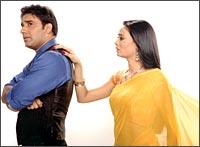 Don't you think the subject dealing with infidelity is quite bold?
Yes it is a bold subject, but there isn't any such provocation of infidelity here. The show just tries to portray the double standards of society in a very simple manner.
What is the message in the story?
We want to put across the point that when a man can be forgiven for having an affair, why can't a woman? This is the reality today though this show is not condoning extra-marital affairs. It is just questioning the double standards that exist in our society.
Are you going to shed tears in this show too?
Crying is an important element of the show. There are many emotions involved here. The tears will tell you the whole story without any dialogues (Laughs).
Can we say that this show is your autobiography?


It is not just my autobiography. It can be anyone's.
Do you think that the same phrase Jaane Kya Baat Hui holds good in your personal life too?


As I said earlier, this does not only apply to me. There are so many situations in life that makes you think of Jaane Kya Baat Hui.
There are rumours that Jalwa 4 2 Ka 1 may end prematurely?
I have heard the rumours too but I haven't got any confirmation from the producers of the show.
Watch Jaane Kya Baat Hui every Monday to Thursday at 10.30 pm on Colors.