Shabana Azmi never has a dull moment. Whether it's touring the world with her play Kaifi Aur Main, building a house in Khandala or renovating her Juhu residence, this talented actress is always on the go.
Looking elegant in a green salwar kameez, Shabana talks to Priyanka Jain about her new film Honeymoon Travels Pvt Ltd, while husband Javed Akhtar sits a few feet away. Excerpts from the interview:
Tell us about Honeymoon Travels Pvt Ltd.
The film is produced by my kids, so it obviously precious to me (Farhan and Zoya Akhtar, Javed's children from his first marriage to writer-director Honey Irani, have produced the film).
It's a fun film made by debutante director Reema Kagti. It's about six couples who go on a honeymoon to Goa in a bus. It's only in India that you can have six couples going together on a honeymoon. I don't think it happens anywhere else in the world.
Tell us about your role.
Boman (Irani) and I play husband and wife going on a honeymoon. The only difference is that we are much older than the other couples.
I play Naheed, a Muslim school teacher, while Boman plays a Catholic husband. His character is very charming. He is always trying to impress his wife and comes up with shayaris that he mispronounces. They sing together and share their grief and sorrows. She finally manages to bring his daughter and him together.
On our honeymoon with the other couples, we are mistaken for the parents of the bride and bridegroom. People are surprised to find that it's actually our honeymoon. The other couples assume that we will cramp their style. But we don't turn out to be didactic or preachy, in fact we are very playful. It's quite endearing.
There's a kind wisdom that only experience brings. They both have traumatic pasts and are looking to build a new future devoid of any kind of romantic notions. There is warmth, compassion and friendship with which they tender this relationship.
How was it working with Reema Kagti?
Having been an assistant director before, Reema knows that time is money. Her earlier experience has helped the producers control the budget of the film.
She has the ability to keep back ups and always has a Plan B in hand. It's a rare ability for first-time directors. She is respectful of her actors and sure of what she wants from them. She indulges them sometimes but is also firm.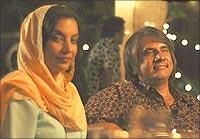 How did you find Boman?
Boman has an insatiable curiosity. He is a real film fan. He knows every single film of Rajinder Kumar and Mala Sinha. He has a huge appetite for Hindi cinema as well as international.
He's always asking me questions. His mild demeanour hides a wickedly funny sense of humour. I had a ball working with him and am looking forward to working with him in the future. He is a very fine actor. He surprised me; he would play things very different from the way I had imagined them to work. It was a very healthy working relationship.
What kind of conversations did you have with him on the sets?
He was very curious about my experiences, my shoots and how I reacted to particular situations. Actors don't normally display that kind of curiosity about other actors' experiences. That, I think is an indication of a very healthy mind.
And how was it working with the younger crop of actors? What did you all do during the between shoots?
We were always playing on the sets. There were long periods where we have nothing to do but wait and that can be very tiring. We passed time by playing games like Antakshari or word building.
Boman and I were even voted the couple who rocked the most!
We have heard a lot about the innovative dancing bit on the set. Tell us more.
The dancing bit was lovely.
Reema was very clear that she did not want it to look like a structured choreographed song. She recalled some people dancing unhibitedly to music on a cruise once, and she wanted the same for the film.
Farad Khan, our choreographer, insisted that everyone should follow what they know rather than learning new steps. I came up with some completely crackpot movements and Farah made everybody copy those. There is a very nice spontaneous quality to the song. It doesn't look like its being choreographed at all. That is its strength.
What next?
I have an English comedy, Lions of Punjab, directed by debutant director Manish Acharya coming up. Ayesha Dharker, Darshan Jariwala and some newcomers are in it. The film is about a contest taking place in New Jersey. I am playing a socialite who does 'social service' and wants to win that contest.