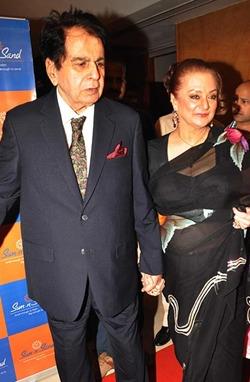 Veteran actor Dilip Kumar, who was rushed to Lilavati hospital on Sunday night after he complained of uneasiness in the chest, is now stable and according to the doctors treating him, there is no reason for concern.

"He is under the care of a cardiologist. However, there is no cause for concern. He has been kept in the ICU only for observation," Lilavati Hospital spokesperson Dr Naresh Trivedi told reporters.

According to Uday Tara, Kumar's family friend and biographer, he had mild fever and complained of breathlessness. Family and doctors had decided to keep him under observation in the hospital for safety.

When asked about the reports of heart attack, she said "there is nothing like that and he is conscious and is also eating food now."

Meanwhile, Saira Banu came outside the hospital and briefed the reporters about her husband's health.

"He is stable, and we are praying that he recovers fully. He had viral fever earlier a few days ago and today he felt a little discomfort following which we decided to bring him to the hospital. He is conscious right now," the actress said.

Tara claims the actor's hospitalisation was more cautionary than anything else.

"It's Ganesh Mahotsav time and the family didn't want to take any risks with Yusufsaab's health. God forbid, if there was a medical emergency and the traffic during the festivity would have made it impossible to reach the hospital. Yusufsaab has had a heart surgery 14 years ago. No one wants to risk any untoward incident," he said.

Tara's biography on Dilip Kumar is being readied for an October release.

Says the journalist-author, "It's not easy to pen down the life and career of an actor who has defined excellence for generations."

As news of the Thespian's hospitalization spread in the film industry, anxious inquiries about his health began to pour in from all quarters.
Amitabh Bachchan, who had the privilege of sharing screen space with Dilip Kumar just once in Ramesh Sippy's Shakti, recalls how radiant the doyen of Bollywood looked during a recent photo shoot, held at Dilip Kumar's bungalow.
The legendary actor had complimented the Big B, "Look at what a long way you've come!"
"Nothing compared with you, Yusufsaab," replied Bachchan sincerely.
In the picture: Dilip Kumar and Saira Banu. Photograph: Pradeep Bandekar.
Inputs from Subhash K Jha