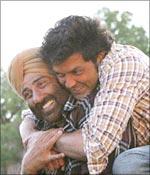 Sukanya Verma reviews the music of Yamla Pagla Deewana. Post YOUR reviews here! 

It's time for Singhs to be Kings again.  Dharmendra and sons –Sunny and Bobby Deol are back with a bang as Yamla Pagla Deewana respectively after a successful outing in Anil Sharma's boxing drama, Apne. 

This time, however, the mood is undoubtedly on the zingy side with the handsome trio playing con-men engaged in comic confusion.  Directed by Sameer Karnik (Kyun! Ho Gaya Na..., Heroes, Nanhe Jaisalmer), YPD is already generating buzz with its Deol fizz and colourful spontaneity.

Does the soundtrack wear the same catchy effervescence? Let's find out.

Despite multiple composers at helm, this extensive soundtrack is distinctly (and predictably) Punju in nature.

Exuberant notes of the chartbuster, from where the film draws its title, featured in Dharam-starrer Pratigya (1975), open the album. RDB reworks the super energetic Main Jat Yamla Pagla Deewana whilst retaining the original's essence around Sonu Nigam's tad self-conscious reproduction of Mohammed Rafi's unique zest.  

The rustic flavours of Nouman Javaid's Charha De Rang receive special treatment what with an additional three versions to roll. But neither Ali Pervez Mehdi nor Rahat Fateh Ali Khan, adlib or otherwise, can lift this exceedingly tepid, tedious number above the ordinary. Strange, considering the lyrics radiate an air of cheerful sentimentality. The off-tune, clashing arrangement rings in despondent drama.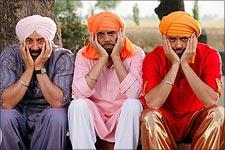 Up next, the Deols gear up to boogie-woogie against Anu Malik's foot-tapping Tinku jiya. In this ostentatious marriage of a Munni badnaam prototype with a stamp of balle balle, a husky-toned Mamta Sharma and Javed Ali (of Guzaarish, Ghajini fame) lend in enough camaraderie to make the gig almost work.

The music director and songstress return for the raunchy item ditty, Chamki Jawaani alongside Daler Mehendi and Master Salim. The showy offering with its saucy banter and flirtatious overture is designed along the lines of Kajra Re. And while it's bound to attract its targeted audience, Chamki Jawaani isn't infectious enough to lure a broader base.

Pakistani pop artist Omar Nadeem and Shreya Ghosal collaborate on Sau Baar, a glossy 'n' dreamy Sandesh Shandilya creation that provides a welcome break from the bustling momentum of the previous songs.

Regardless of its generic arrangement, the play of rhyme and gusto in Son Titariya, powered by Krishna Beura's dynamic rendition makes this She-makes-my-heart-go-boom scenario snappy and engaging at once.

Bhangra reigns supreme in Sukhwinder Singh's authenticity personified crooning of the heavily Punjabi Kadd Ke Botal -- penned by Dharmendra. But even with Singh's trademark verve and vigour, this one lacks the charisma or staying power to truly impress.

After an overdose of flamboyance, the soundtrack ends on an uncharacteristically religious note with Shahid Mallya's recitation of Gurbani from the holy scriptures of Shri Guru Granth Sahib. Not exactly the grand finale you were hoping for.

Ditto for Yamla Pagla Deewana's music. It starts out with promise but loses sizzle half-way.
Rediff Rating: