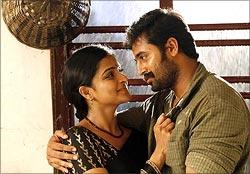 'If this revenge saga is watch-able, it is because of the sincerity of the young lead pair' says Paresh Palicha

Ithu Pathiramanal, directed by M Padmakumar is a traditional revenge drama that unfolds without many frills. It has an old world setting of thatched-roof houses and kerosene lamps of the Kuttanadan backwaters.

A 10-year-old boy witnesses his mother being raped and his father being stabbed to death. Predictably, the boy grows up to be a handsome hunk and takes revenge for the torment that his parents suffered.

The writer, Babu Janardhanan, adds a flourish to the story by making the mother pregnant by her tormentor, and the child grows up to be a policeman.

This film has been long in the making and Jayasurya was supposed do the roles of both father and son. But he backed out after shooting the father's portion, and Unni Mukundan stepped in to do the son's role.

The young actor has made it a habit to appear in bold and brooding roles in his short career, and
is the only refreshing thing in this film.
Eldho (Unni Mukundan) has waited 20 years for his enemy to get out of jail to settle scores with him. In between, he has completed the duty of marrying off his younger sister.
Shouri (Pradeep Rawat), Eldho's adversary, the menacing policeman, lives off his daughter's earnings from a modest tea shop.
Sara (Remya Nambeesan), who tries to step into Manju Warrier's boots by doing a role that the latter had done in Kanmadham, tries to save her siblings from the big bad world.
If this revenge saga is watch-able, it is because of the sincerity of the young lead pair. And Pradeep Rawat's genuinely menacing presence.
The much hyped presence of Jayasurya has been reduced to an insignificant guest appearance, and as if to justify it, the footage is used a few more times as flashback.
Ithu Pathiramanal is beautifully shot in the picturesque Kuttanadan backwaters by cameraman Manoj Pillai, but the film turns out to be a damp squib.
Rediff Rating: